The viewers are seated on a revolving stage forming a voyeuristic kraal around a second stage. A one-diameter wide glass platform leaves the dancer little room to move in her martyr-dom. Her body is slightly elevated and exposed to the spectators, which lose their spatial orientation as they circle like a slowly sweeping camera around the captive, bound female dancer's body. She is exposed to the arrow-like attacks from the corners of the room of voices, light, music and an out-sized eye. The audience is sitting on the 'battlefield' of acoustic and optical aggression: a first experiment in treating all theatrical means and symbols with equal intrinsic value rather than subordinating them under a story.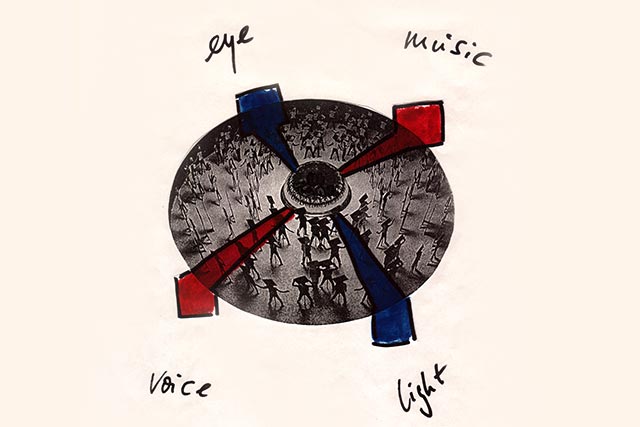 A startling sensual event.
Helena Waldmann's performance hits and displaces the viewer.
Gerald Siegmund
a coproduction of  Künstlerhaus Mousonturm Frankfurt
supported by Amt für Wissenschaft und Kunst Frankfurt and Hessischen Ministerium für Wissenschaft und Kunst
stage installation
directing
choreography
body
voice
Karin Niederberger
(2nd cast: Frances Fenton)
music
light
eye
dramaturgy
choreographic cooperation
Kiri Mc Guigan
Angélique Willkie
costume
assistant to the director
technical realization
fotos
number of spectators
70 spectators seated on a revolving stage
duration
Künstlerhaus Mousonturm
Frankfurt/Main (D)
MARCH 29-30
Künstlerhaus Mousonturm
Frankfurt/Main (D)
APRIL 1
Künstlerhaus Mousonturm
Frankfurt/Main (D)
ballett international-tanz aktuell | 1995. May
by Bettina Milz
Erotic of the wound >
Helena Waldmann started her career as an assistant of George Tabori, followed by a short-term work as director's assistant and director in Bochum. With the successful and now widely known production of "Malady of Death" by Marguerite Duras she took up her work as a free-lance director in Frankfurt. The central subject of her work is the human body and its traces in different textures, in the materials of the stage in language and in the memory of the narrative ego. The voyeuristic viewer finds himself in an unusual position: he watches the performance from below, situated on a horizontal level, one beside the other. Waldmann continues to work with these preconditions affecting body and view of the public in 'circuit'.
The viewers are seated on a revolving stage forming a voyeuristic kraal around a second stage. A one-diameter wide glass platform leaves the dancer little room to move in her martyrdom. Her body is slightly elevated and exposed to the viewers as well as to the attackers placed in the background of the room: song (Karin Niederberger), composition/music (Hubert Machnik), Lighting (Mime Möller), eye (Susanne Kessler). The subject: a Chinese puzzle of body and view between sensual pleasure and suffering.
Waldmann's project bears the title 'performance'. Artists from various disciplines participate: dance/choreography, composition, song, lighting. The notion 'performance' promises an unconventional and process-like collision of the different disciplines. She may intend in a broad sense to set the viewers going (which is rare), to make them participate in her art. She may hope to provoke an irritation in maintaining their autonomy, including their bodies into the action.
The fascination of Sebastian initiates the dance as well as the entire composition playing with the figure. The dancer Angélique Wilkie (Jamaica) seems to be the ideal person to embody the androgynous body of the martyr raised in beauty. At the beginning she is tied up in red ribbons which are crossing the room, leading to her attackers: arrows, penitential robe, the strings of power. Icon or disgrace.
In a space of sounds between orchestra and stoning the body is slightly swaying to and from, testing the extension of his jail and the remaining moving space. May there be not only reluctance but also sacrifice? All presentations of the holy Sebastian include the erotic element of the body surrendering to the knife and arrow and of the body as an opening wound.
The holy Sebastian, sergeant and martyr, in the third or fourth century was condemned by an order of Diocletian to be shot by arrows of his own men due to his resistance, his Christian belief and his beauty. He survived and was stoned afterwards. This body, sovereignly withstanding the injures, calmly offering his wounds in celestial beauty, was the subject of countless Renaissance pictures.
When the first attack hits the dancer the room and the viewers start moving. Reluctantly the body of the victim is disentangled for the ritual to start. The arrows are pulled out of the flesh, the stones are collected for a new attack.
However, Sebastian has to be destroyed a second time. He stands up. Simultaneously the moves become slow and the music becomes more passionate. The dance reduces to a minimum, relevés, views. The eye avoids to watch the scene until it closes tremblingly. The martyred body withdraws from the eye after this last glance. He stands up again, returns to the beginning. He has not been hit. Fade-out.
'Circuit' is a co-operation of all the signs in the system of the theatre. Light, sound, space, body and voice are performing. Their common motif is the body between agony and ecstasy. Their aim is to produce a 'startling sensual event'.
Journal Frankfurt
by Gerald Siegmund
circuit >
Helena Waldmann carries it to extremes. She presents the theatre as a viewing machine where the bodies of the performers are pierced by arrow-like views. She has found examples in countless Renaissance pictures. The holy Sebastian, martyred, exposed on a platform, the king's minions around him, throwing arrows into his still uninjured body without hesitation. Throwing a glance heavenwards, the beautiful androgynous young being seems rather delighted than shocked about his pain. Suffering and pain, holiness and eroticism – theatre evokes sensual pleasure. The skin of the actress is 'opened'. She is exposed to the eyes of the viewers. Theatre goes under your skin. The androgynous Jamaican dancer Angélique Wilkie is moving on a small dance platform in the middle. The viewers are seated around her on a revolving stage. Out of the four corners various attackers are aiming at her. Arrow-like, song, music and lighting flashes are penetrating the room. Helena Waldmann's performance hits and displaces the viewer.
Frankfurter Allgemeine Zeitung | 1995, April 2
by Ulrike Moser
circuit >
Blood-red ribbons stretching through the room, crossing in the middle of the circular stage. There, on a platform a woman is standing caught and tied. Her arms are bound to her body, one knee is bend, the head is is bowed across her shoulder. This is how the renaissance painters have presented the martyrdom of the holy Sebastian. Slowly the revolving stage starts moving. The circles are drawn and the ties are falling from the Jamaican dancer Angélique Wilkie. Her eyes incredulous, gentle and full of accord glance fleetingly at the public. She seems like a snake casting the slough. Like a rebirth, we experience the slow disentangling of her athletic body, which looks like naked in her flesh-colored tights. Swaying and turning this reptile-like androgynous being uncovers its body while being shot by arrows of red and white light. What seemed like the first timid moves of a newborn animal becomes a death-struggle. Winding under the lighting flashes her movements seem haunted. In painful panic she throws her body around on the small platform as if imprisoned by jail bars rendering a flight impossible. However, within the pain there seems to be a certain pleasure. In one of the corners Waldmann has installed a glass bowl. From there a big eye is watching the scene, indifferently catching the view of the public. It is closed only after the last desperate move of Sebastian. At the moment where he stands up, accompanied by the voices of a choral, relieved, freed and upright the eye becomes blind.
ballett international-tanz aktuell | 5/95
von Bettina Milz
Die Erotik der Wunde >
Helena Waldmann begann nach Assistenzen bei George Tabori und einer Zeit als Regieassistentin und Regisseurin in Bochum ihre Arbeit in Frankfurt mit einer gelungenen und inzwischen viel gereisten Inszenierung von "Die Krankheit Tod" nach Marguerite Duras. Im Zentrum: der Körper, seine Spuren in den verschiedenen Texturen, in den Materialien der Bühne, in der Sprache, in der Erinnerung des erzählenden Ich. Bereits in dieser Arbeit fand sich der Zuschauer-Voyeur in ungewohnter Lage: Er betrachtet die Performance von unten, aus der Horizontalen, liegend, Mensch neben Mensch. Diese körperliche Voraussetzung für den veränderten Blick des Zuschauers findet ihre Fortsetzung in 'circuit'.
Die Zuschauer sitzen auf einer Drehbühne, bilden einen voyeuristischen Kraal um eine zentrale zweite Bühne; ein Glastisch, der der Tänzerin einen Meter Durchmesser an Bewegungsraum lässt, den Spiel-Raum für ein Martyrium. Ihr Körper ist erhöht und den Blicken der Zuschauer sowie den hinter den Zuschauern kreisförmig angeordneten Angreifern Gesang (Karin Niederberger), Komposition/Musik (Hubert Machnik), Licht (Mime Möller), Auge (Susanne Kessler). Das Thema: ein Vexierspiel von Körper und Blick zwischen Lust und Erleiden.
Eine Performance nennt die Regisseurin Helena Waldmann ihr Projekt, an dem Künstler aus verschiedenen Sparten beteiligt sind: Tanz/Choreografie, Komposition, Gesang, Licht. Dieser Begriff – Performance- verspricht immer noch eine unkonventionelle und prozesshafte Kollision dieser Sparten. Vielleicht sogar, dass der Zuschauer im weitesten Sinne in Bewegung versetzt wird (selten genug), als Betrachter zugleich Mitbeteiligter im Raum der Kunst. Eine Hoffnung auf Irritation, auch eine Autonomiebehauptung, die den Körper im Zentrum der Szene miteinschließt.
Der Tanz, wie die Gesamtkomposition, umspielt die Figur des Heiligen Sebastian, nimmt seine Faszination zum Anlass. Die Tänzerin Angélique Willkie (Jamaica) ist eine ideale Besetzung für den androgyn, in Schönheit erhobenen Körper des Märtyrers. Zu Beginn steht sie in rote Bänder gehüllt, die im Raum verspannt zu ihren Angreifern führen: Pfeile, Büßergewand, Fäden der Macht. Ikone oder Schandbild.
In einem Klangraum zwischen Orchesterprobe und Steinigung schwankt der Leib vor und zurück, testet die Dehnung seines Gefängnisses und den verbleibenden Bewegungsraum. Ist es Widerstand oder auch Hingabe an die Situation? Alle Darstellungen des Heiligen Sebastian spielen mit der erotischen Komponente des zum Messer, zum Pfeil hingewölbten Körpers, des zur Wunde sich öffnenden Leibes.
Der heilige Sebastian: z.B. Offizier und Märtyrer, im 3. oder 4. Jh. auf Befehl Diokletians wegen seines Widerstandes, seines christlichen Glaubens, seiner Schönheit von den eigenen Mannen widerwillig mit Pfeilen durchdrungen. Er überlebt, wird gesteinigt. Dieser Körper, der souverän der Verletzung standhält, ein in überirdischer Schönheit und Gelassenheit die Wunde darbietender nackter Leib, das war das Motiv unzähliger Darstellungen in der Renaissance.
Mit dem ersten Angriff der Sängerin setzt sich der Raum – und mit ihm die Zuschauer – in Bewegung. Widerstrebend wird der Körper des Opfers für das Ritual enthüllt, werden die Pfeile zur erneuten Verwendung aus dem Fleisch gezogen, die Steine wieder eingesammelt.
Doch Sebastian muss ein weiteres Mal vernichtet werden. Er erhebt sich. Während die Choreographie sich verlangsamt, wird die Musik mitreißender. Der Tanz spitzt sich zu auf ein Minimum, Relevés, Blicke. Das 'Auge' beginnt auszuweichen, bis es sich zitternd schließt. Bis der gemarterte Körper nach einem letzten Blick, verlassen von diesem Auge, sich zurückzieht. Er richtet sich langsam wieder auf. Kehrt zum Anfang zurück. Nicht getroffen. Black.
'Circuit' ist ein Ensemble der Zeichensysteme des Theaters. Es spielt das Licht, der Ton, der Raum, der Körper, die Stimme. Ihr gemeinsames Motiv ist der Körper zwischen Agonie und Exstase. Ihr Ziel: ein bestürzend sinnliches Ereignis.
Journal Frankfurt
von Gerald Siegmund
circuit >
Helena Waldmann treibt es auf die Spitze. Das Theater als Apparat der Blicke, die die Körper der Darsteller durchbohren wie Pfeile. Auf unzähligen Renaissancegemälden hat sie ihr Vorbild gefunden: den heiligen Sebastian, gemartert, auf einem Podest ausgestellt, um ihn herum die Schergen des Königs, die ihm ohne mit der Wimper zu zucken Pfeile in seinen unversehrten Körper jagen. Den Blick gen Himmel gerichtet, scheint der schöne androgyne Jüngling jedoch eher entzückt als entsetzt ob seiner Qualen. Leiden und Schmerz, Heiligkeit und Erotik – Theater macht Lust.
Die Haut der Darstellerin ist geöffnet. Denn dort, wo sie der Blick des Zuschauers trifft, liegt der Mensch bloß. Theater geht unter die Haut. Die androgyn wirkende Tänzerin aus Jamaica, Angélique Willkie, bewegt sich auf einer kleinen Tanzplatte in der Bühnenmitte. Die Zuschauer gruppieren sich auf einer Drehbühne um sie herum. Von den vier Raumecken richten sich verschiedene Impulse auf die Mitte. Gesang, Musik und Licht durchdringen den Raum wie Pfeilschüsse. Helena Waldmanns' Theater trifft und verrückt die Zuschauer.
Frankfurter Allgemeine Zeitung | 2.4.1995
von Ulrike Moser
circuit >
Blutrote Bänder überziehen den Raum, kreuzen sich in der Mitte der kreisrunden Bühne, dort, wo auf einem Tisch, gefangen und gefesselt, eine Frau steht. Ihre Arme sind an den Körper geschnürt, ein Knie ist gebeugt, der Kopf über die Schulter geneigt: So haben die Renaissancemaler das Martyrium des heiligen Sebastian dargestellt. Langsam setzt sich die drehbare Bühne in Bewegung, und mit den Kreisen fallen die Fesseln von der jamaikanischen Tänzerin Angélique Willkie, deren Blick, ungläubig, sanft und voll Einverständnis, über das Publikum streift. Wie eine Schlange, die sich häutet, wie eine Wiedergeburt wirkt diese langsame Befreiung ihres athletischen Körpers, der in dem hellen Trikot wie nackt wirkt. Wiegend und sich drehend scheint dieses reptilienhafte, geschlechtslose Wesen seinen Körper zu entdecken, während es mit Pfeilen aus rotem und weißem Licht beschossen wird. Und was eben noch wie das zarte Tasten eines neugeborenen Tieres wirkte, wandelt sich im nächsten Moment zum Todeskampf. Sich windend unter den Strahlen, wirken ihre Bewegungen getrieben. Gepeinigt und panisch wirft sie sich auf ihrem winzigen Podest um den eigenen Körper, als seien Gitterstäbe um sie herum, die eine Flucht unmöglich machten. Und über den Schmerzen scheint eine Lust zu liegen, die untrennbar vom Schmerz ist. Waldmann hat in der einen Ecke des Raumes eine Halbkugel installiert, aus der ein riesiges Auge, den Blick der Zuschauer aufnehmend, teilnahmslos das Geschehen beobachtet. Erst vor dem letzten verzweifelten Aufbäumen verschließt es sich, und als Sebastian sich unter den Stimmen eines Chorals erhebt – erlöst, befreit und aufrecht -, da wird das Auge blind.
Erlanger Nachrichten | 16.11.1995
von Benedikt von Randow
Striptease der Gefühle >
Ein Körper, Frau und Mann zugleich, windet sich im Zentrum eines rotierenden Kreises und wird bombardiert von Lichtstrahlen, einer Stimme, zahlreichen Tönen, einem Blick eines überdimensionierten Auges und den Blicken der Zuschauer rundum.
Circuit heißt Kreislauf, kann aber auch Rundreise, Zirkus oder Kurzschluss bedeuten; und alles passt auf diese Aufführung. Musik, Geräusche und Stimme erzeugen fast schon Schmerzen, die Lichter zielen scharf, treffen und blenden, das riesige Auge beobachtet und registriert alles und lässt einen erschaudern. Eine Peep-Show der besonderen Art mit einem Striptease der Sinne und Gefühle: das Publikum wird innerlich auf- und durchgewühlt.
(…)
Wieder draußen, befreit aus diesem Kreislauf, wurde ich gefragt: "War's schön?" Nein, schön war es ganz gewiss nicht, aber was ist schon schön, wenn man etwas derart Unbeschreibliches und Ergreifendes erlebt hat.