Lazgi Landschaften und das Alphabet der Algorithmen Von uralten Tänzen und neuen Ideen
Dies ist ein Programmbuch im Progress.
Oct 2022 Book release:
A mighty event "Lulleli for Fruholmen Fyr" on the island of Ingøy in northernmost Norway unites audiences and dancers under Arctic skies. Not far from the Russian border, the theatre is celebrating the landscape.
With contributions from Dan Mihaltianu, Zuzanna Skiba, Helene Varopoulou, Hans-Thies Lehmann, Gulli Kristina Sekse, Arnd Wesemann, Helena Waldmann, Ine Therese Berg and Norsk Landskapsteater.
!! TA DA !!
Mini  Trailer of our working process on Neo-Lazgi
Trailer by Valentina Maglieri
Sept 2022 Book release: LISENCE TO TRAVEL A Cultural History of the Passport by Patrick Bixby
In License to Travel, Patrick Bixby exposes the passport as both an instrument of personal freedom and a tool of government surveillance powerful enough to define very humanity. He examines the passports of artists and intellectuals, ancient messengers and modern migrants to reveal how these seemingly humble documents implicate us in larger narratives about identity, mobility, citizenship, and state authority. AND he dedicated the epilogue of the book to my dance and acrobatics production "Good Passports Bad Passports – A Borderline Experience".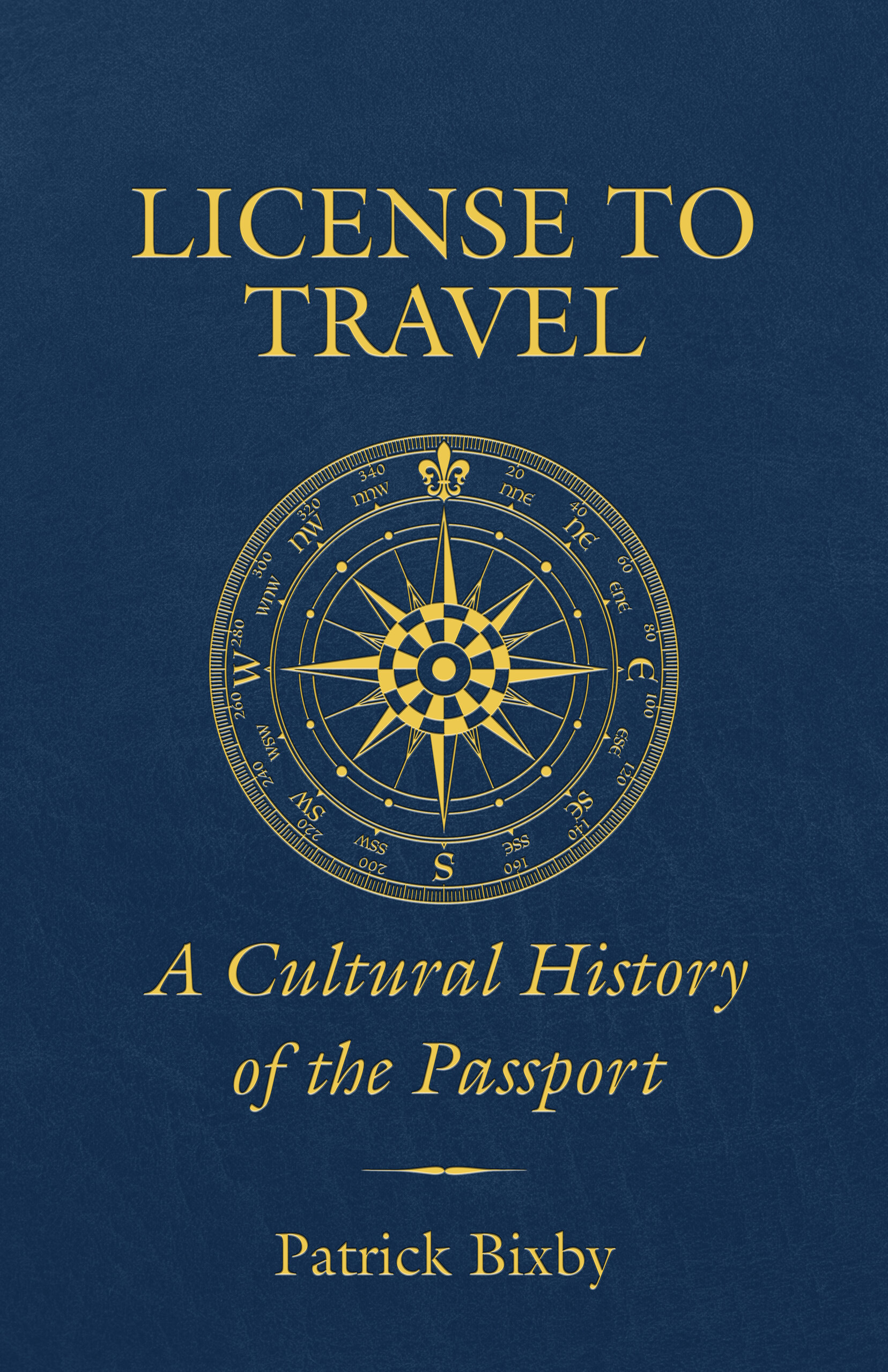 2022 July + August
In the Life is Life-II residency we (musician Ale Hop, costume designer Lauren Steel, dancers Chihiro Araki Cordelia Lange) are working on the development of modern "Sounding Neo Lazgi Costumes", which translates the sounds that traditional Lazgi costumes produce through applied jewellery or bells into a costume equipped with e.g. sound cards and battery-powered speakers. Here some photos showing us working on a sounding hat.

Life is Life - II takeheart Residency @ FFT Düsseldorf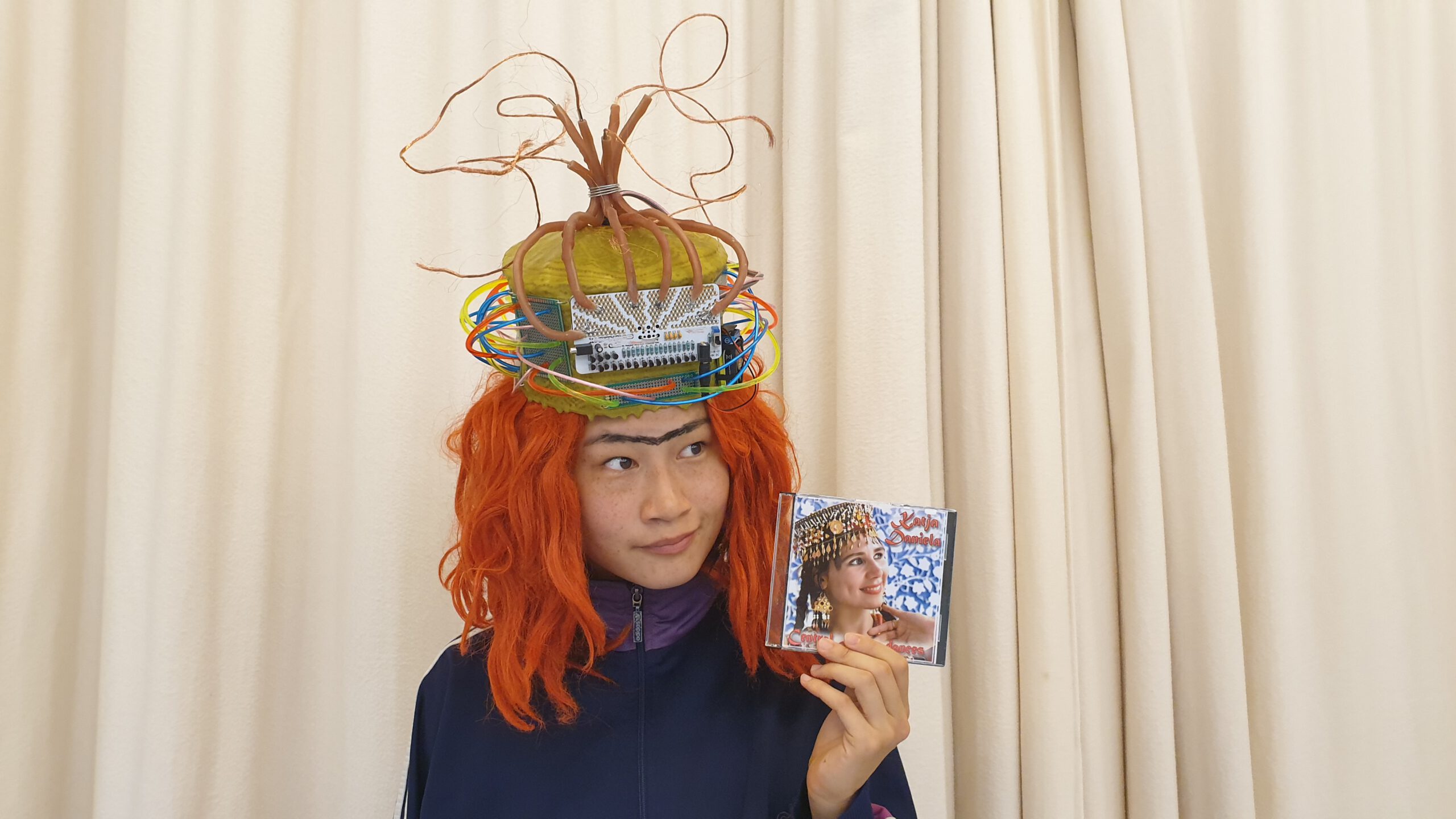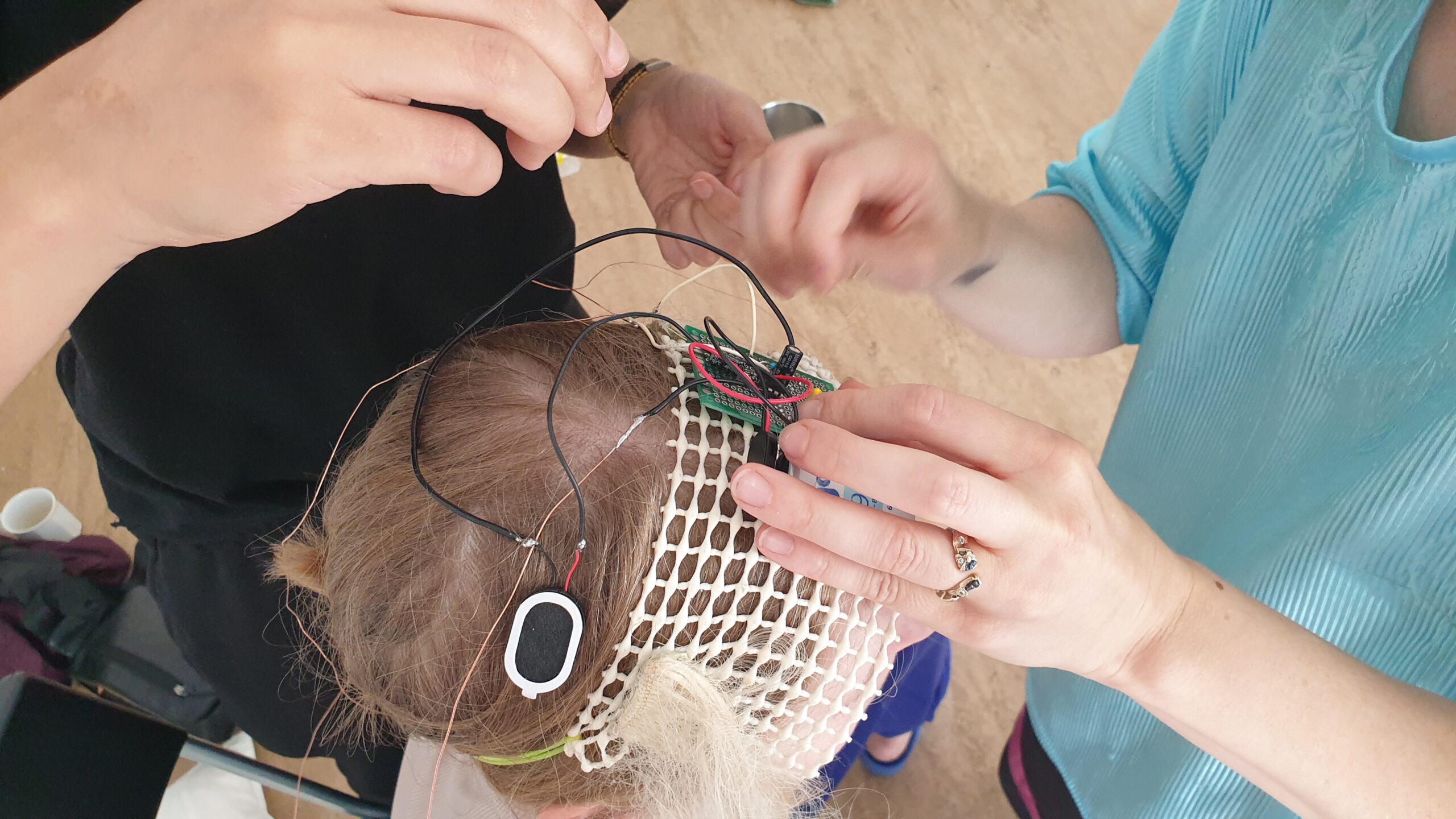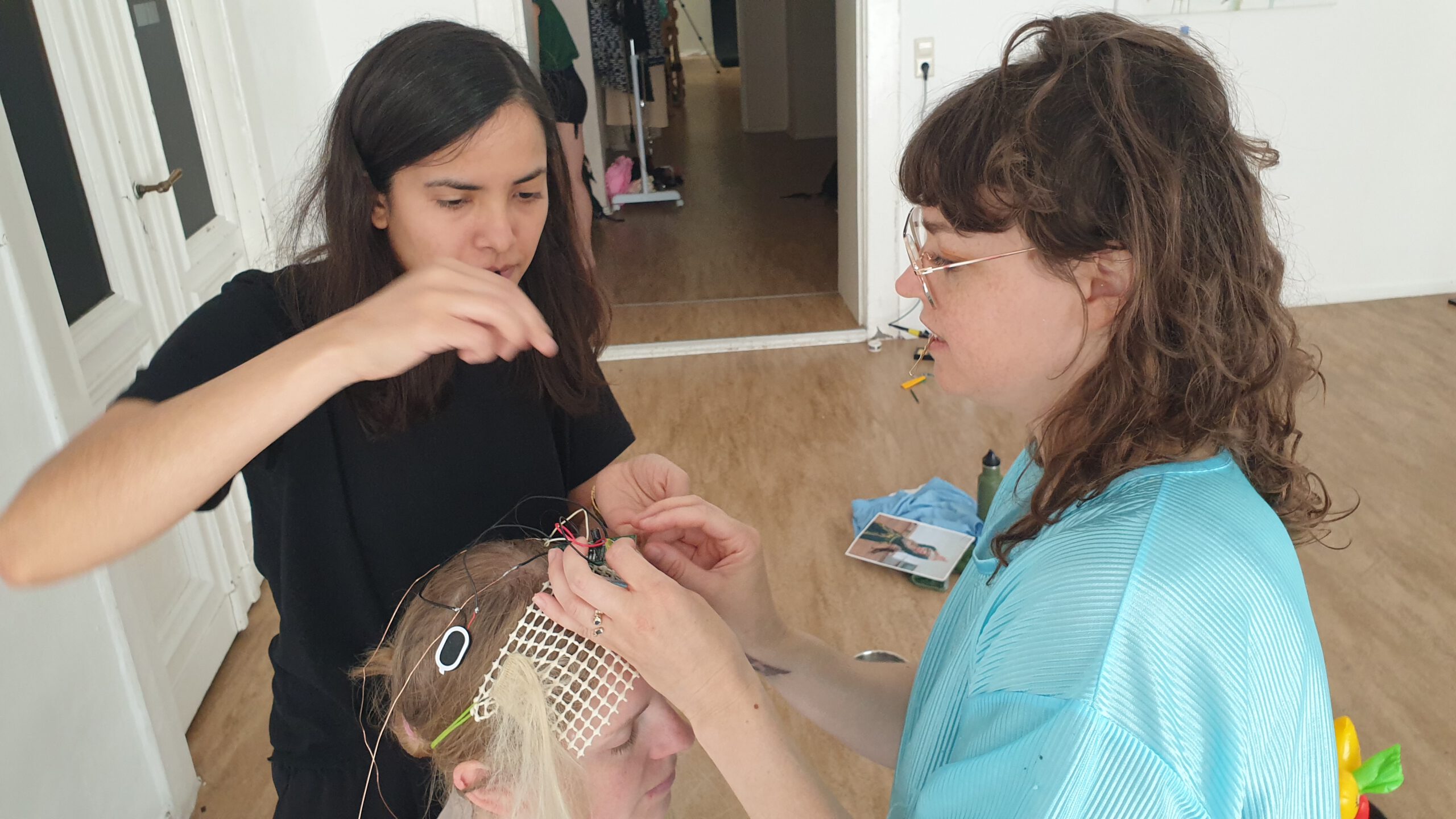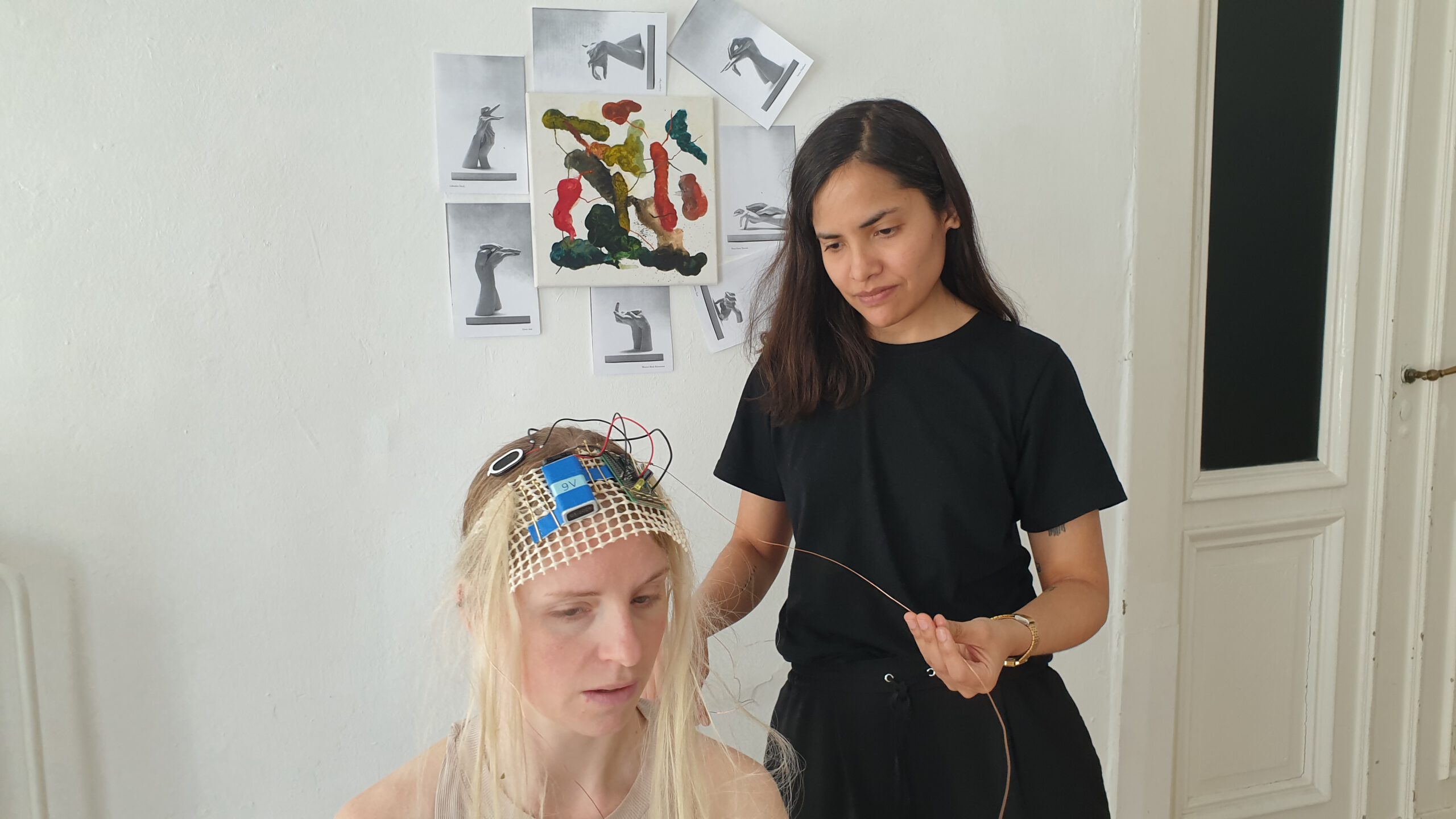 2022 June update TANZPAKT RECONNECT
Team building for innovative dance interventions
For several months now, I have been working on forming a team, that, despite political hurdles, pandemic-related obstacles and personal idiosyncrasies, would be able to take the risk: to change theatre, to connect the threads of togetherness across national and ideological borders, not only to test innovations but also to share them with others and to produce sustainably a way to erase old hierarchies between art and the audience without damaging the art of or the desire for theatre.
I have asked artists and dramaturges I had never worked with before, but who caught my eye or stuck in my ear or twisted my mind. I simply asked, if we would like to meet and invite them for drink and talk. It became many coffees and conversations. A pure joy, which was almost always accompanied by great amazement. Because I wanted never more than to get to know each other. I didn't offer a production, didn't promised a premiere, but if both sides wanted to, I would invite to a dance studio for week-long research and get-to-know-us session. The invitation has been accepted so far by Irina Demina, Julek Kreuzer, Midori Hirano, Kalma, Carolin Schoggs, Astrid Schenka, Thomas Schaupp, Chihiro Araki, Qadira Oechsle-Ali, Ale Hop, Justyna Gmitrzuk, Cordelia Eleonore Lange, Maria Walser, Lauren Steel, Katja Daniela Hillebrand, Anne-Mareike Hess, Neta Henik, Sho Nakasatomi, Kasia Wolinska ….
And we still have another 6 months to go 🙂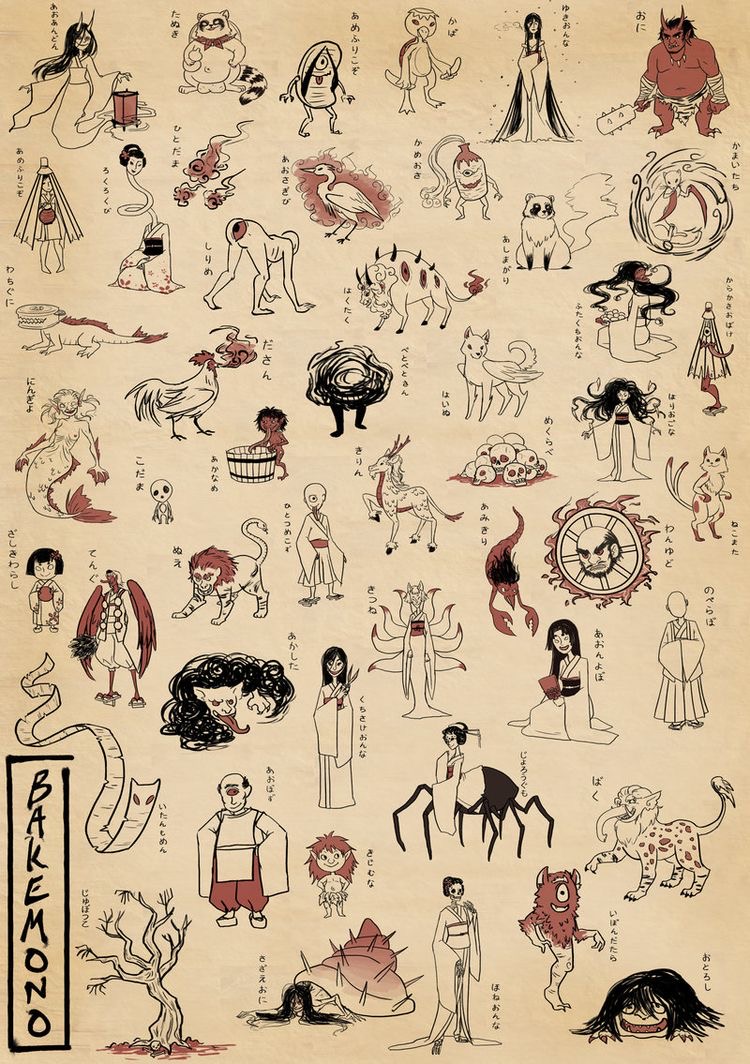 Feb 2022 GETTING TO KNOW EACH OTHER Choreographers from Burkina Faso, Nigeria, Ghana, Togo, Kamerun, Slovenia, Spain, USA
trip to Bobo-Dioulasso, Burkina Faso/West Africa IN-OUT International Dance Festival & SHARE Conference: creative powers of art
with: Aguibou Sanou/Tamadia Dance Company (Burkina Faso), Serge Aimé Coulibaly/Faso Dance Theatre (Burkina Faso), Stefany Ursula Yamoah/ National Dance Company(Ghana), Tchina Ndjidda (Kamerun), Ochai Ogaba/Mud Art Company (Nigeria), Chef Kossi (Togo), Anamaria Klajnscek (Slovenia), Magi Serra (Spain) among others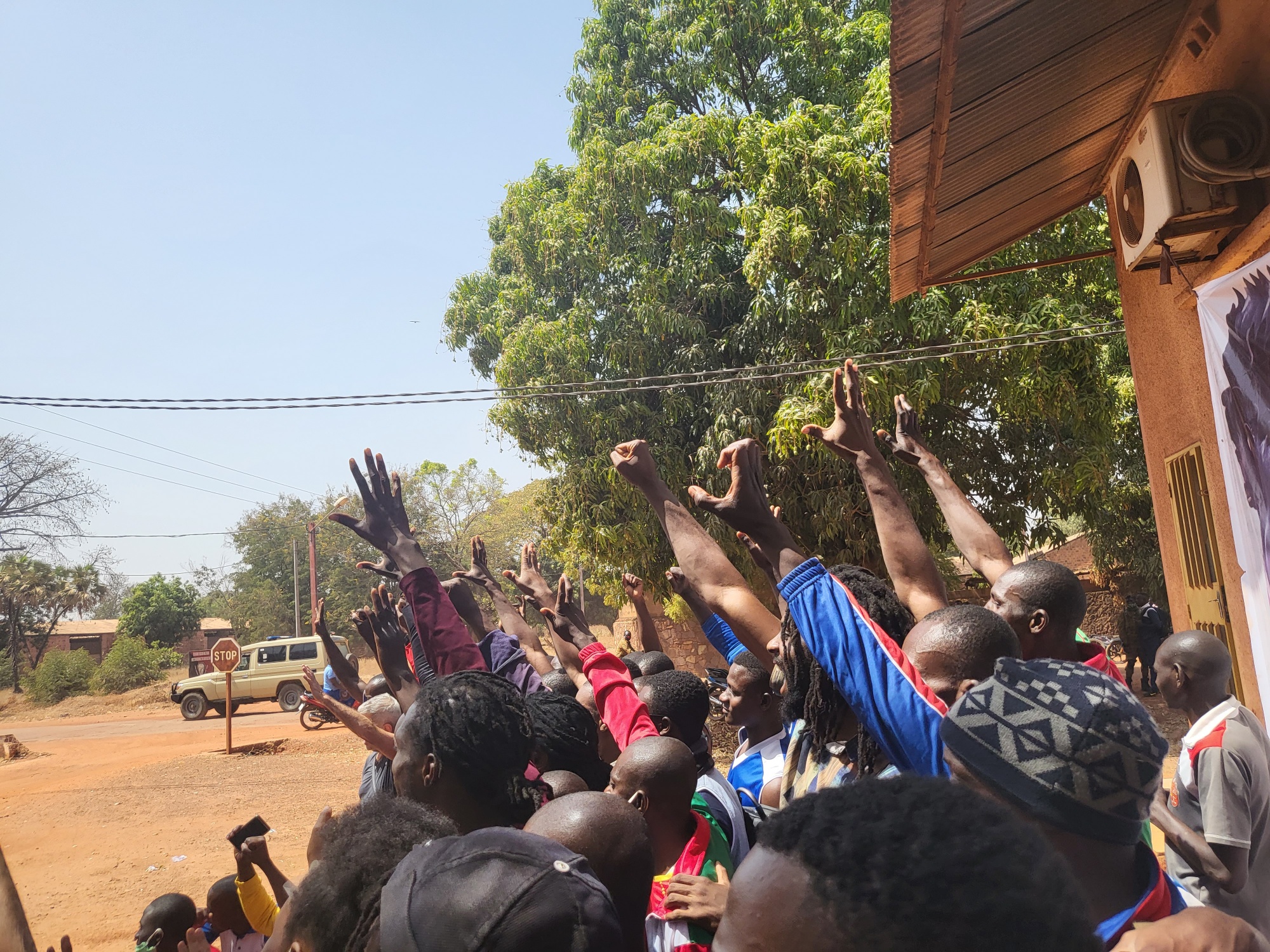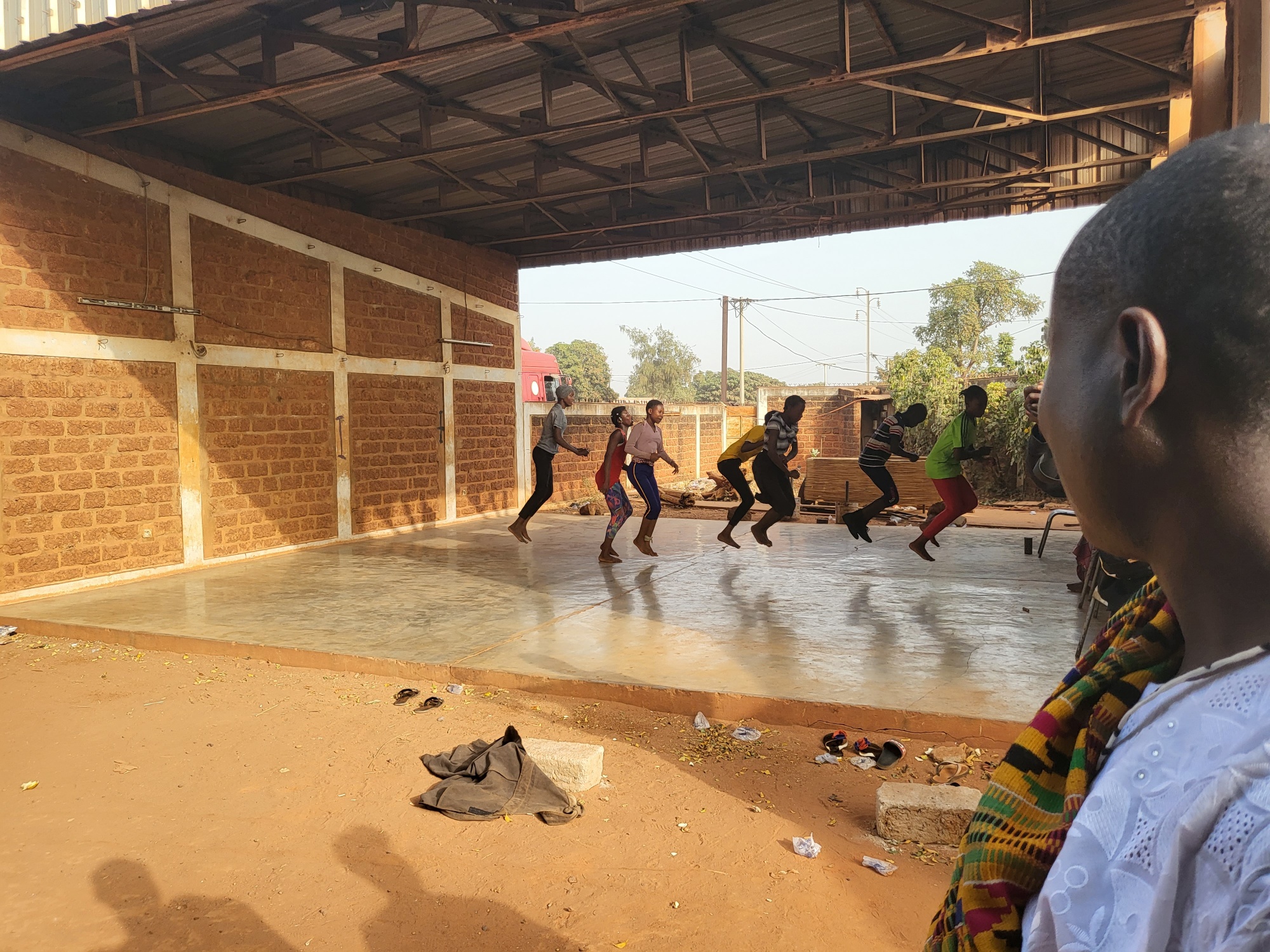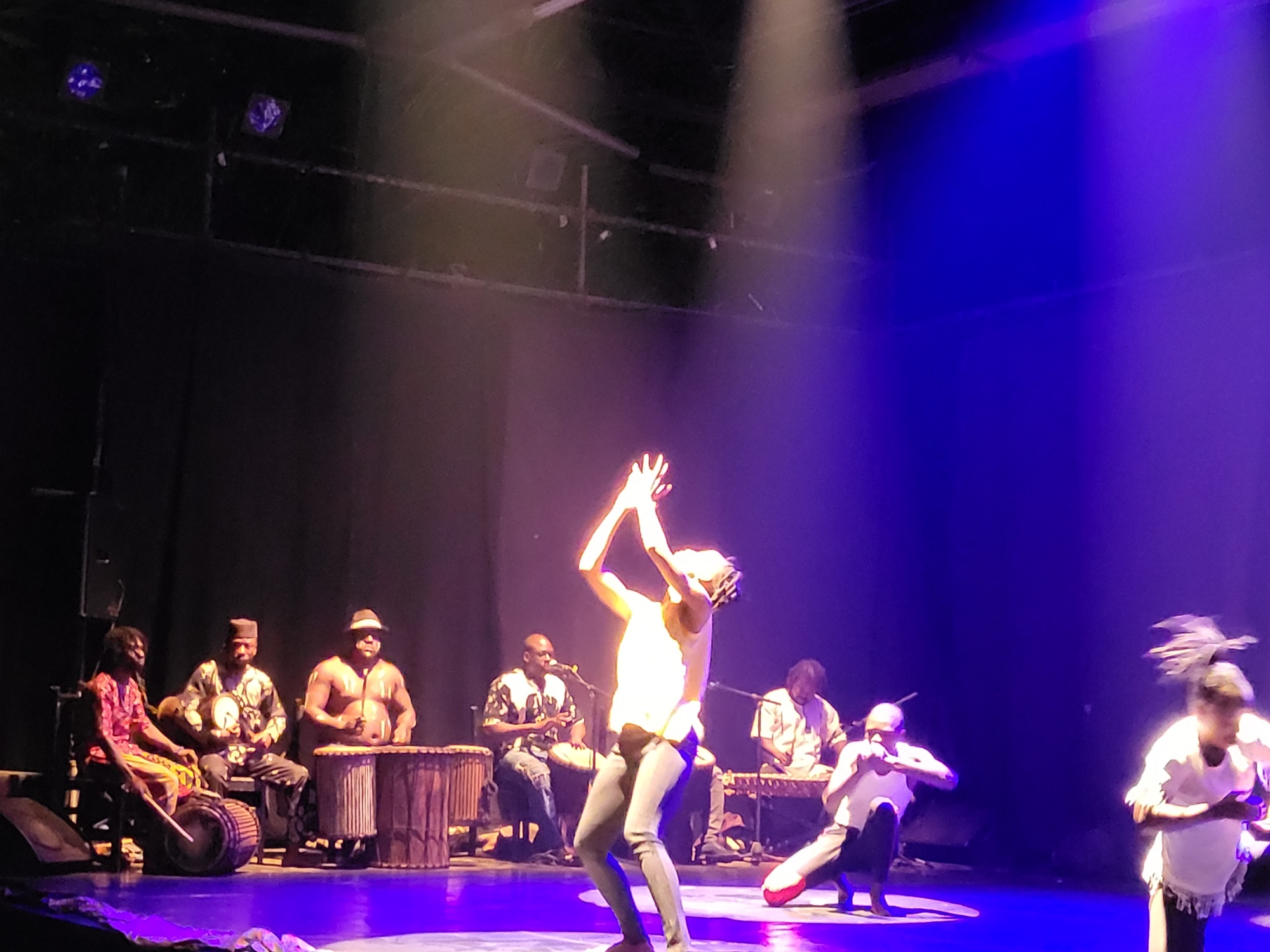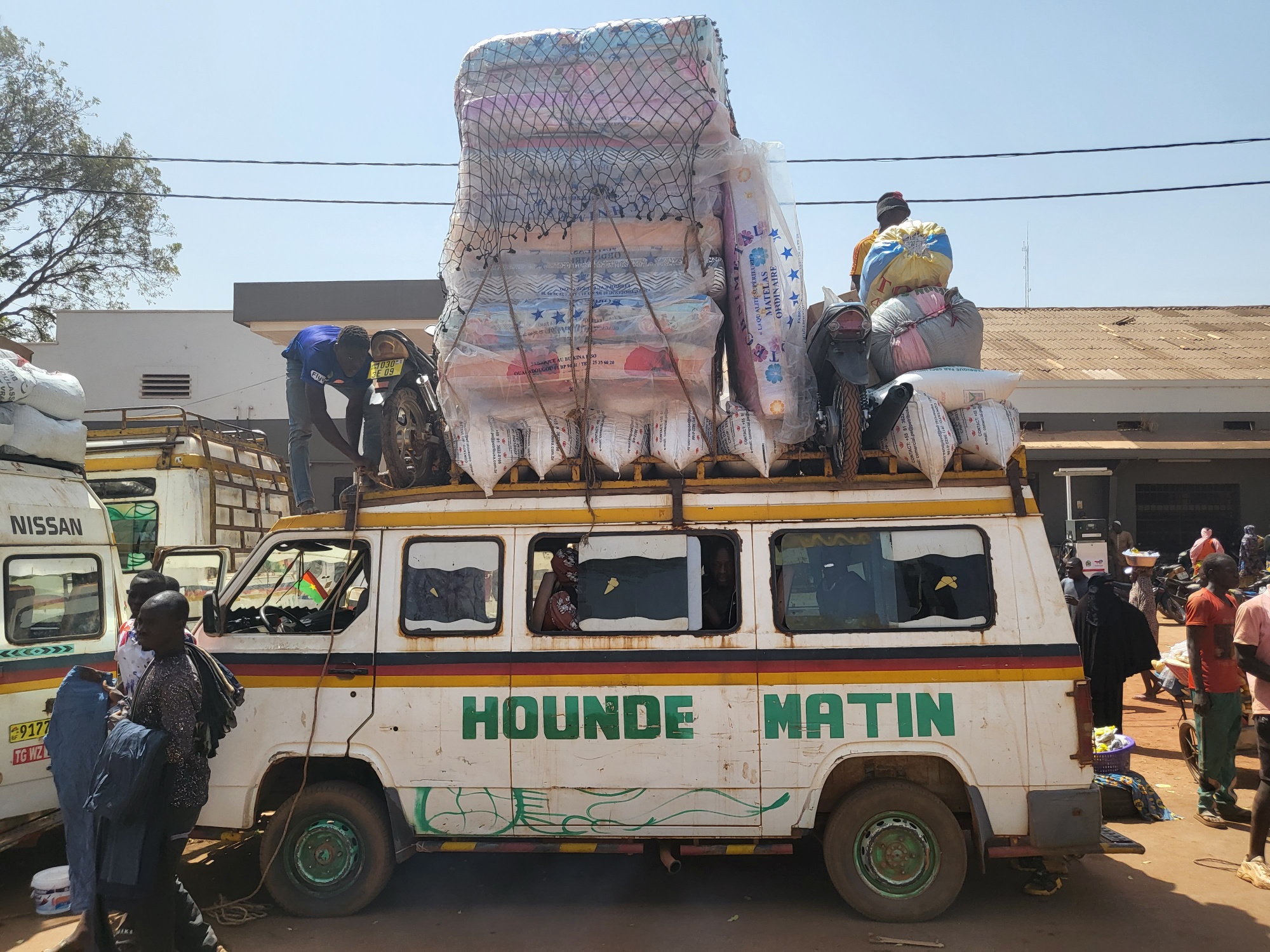 Interview (german) moderated by Viktoria Merkulova.
Broadcast from 25.1.2022, SWR2 Tandem Dance globetrotters with attitude - the choreographer Helena Waldmann
For Helena Waldmann, dance is a political art:
in her pieces she addresses social and political grievances,
such as working conditions in textile factories in Bangladesh.
https://www.helenawaldmann.com/works/madeinbangladesh/
She is currently working on the ancient dance "Lazgi", which she researched in Uzbekistan.
2022 May & June Life is Life - I takeheart Residency @ FFT Düsseldorf
After my research trip to Uzbekistan on Khorazm Dance Lazgi, I am going to research alternatives now along the debate on cultural appropriation. I distinguish between the Western tendency to collect and preserve artifacts, and the ability to simply observe phenomena. Dance as an ephemeral form seems particularly suited to questioning this cultural difference.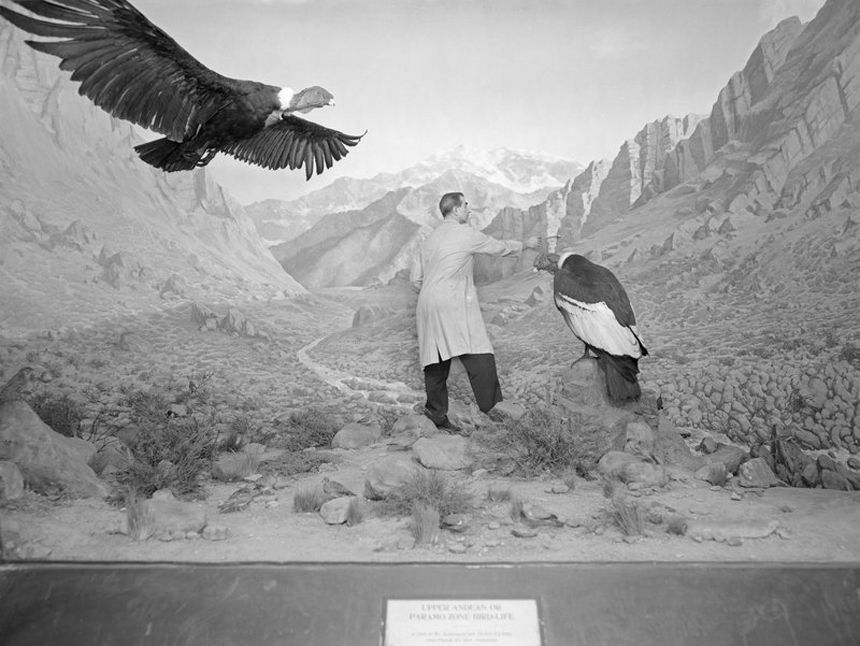 good news 2021/2022 TANZPAKT RECONNECT STRENGTHENING AND FUTURE-PROOFING DANCE STRUCTURES
2021 Sept/Oct Research trip to Uzbekistan on Khozeram Dance, Lazgi
Behind the Caspian Sea, the steppe begins. Kazakh, soon to be Uzbek ethnic groups live here. In one province, Khorezem, not far from Lake Aral, which has almost dried out, a particularly strange dance is found on the streets, in restaurants, at weddings. It is called Lazgi – a continuous sequence of fluttering fingers, bent joints and shivering limbs. It looks as if the dancers are trembling and blazing like fire. In the ancient Khoresmian language, the word Lazgi means: the end of something and the beginning of something new.
Lazgi is probably the oldest dance in the world still practiced today. Originating in the tradition of the Zorasts (Zarathustrians), who worship fire and the sun, it is around 3000 years old according to some clay drawings found in the Kaplankyr Mountains – and since 2019 protected by UNESCO as Intangible Heritage of World Culture.
The research in Tashkent, Khiva, Urgench and Buchara is supported by Goethe Institut and
FONDS DARSTELLENDE KÜNSTE_NEUSTART KULTUR#TakeCareResidenzen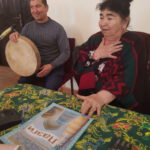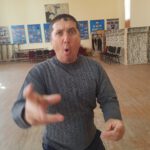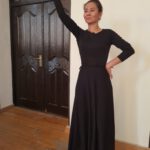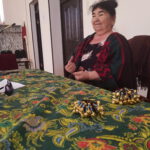 2021 July BALAGAN! @ Ulm Helena Waldmann's pop-up feast for charioteers and all who are with them
It was a reboot of live culture during a short summer break of the pandemic focusing on pure joy and an untamed concept: Balagan. Literally translated as "mess", Balagan stands for the original folk theatre: a turbulent, cheerful fairground spectacle, wandering from town to town like once Commedia dell'arte did. And what goes with it on three wheels? A Piaggio Ape, the popular three-wheeled cargo van.
BALAGAN! is a production by Helena Waldmann and ecotopia dance productions
ROXY Ulm and TanzLabor Ulm
supported by the city of Ulm
funded by the programme Kultursommer 2021 by the Beauftrage der Bundesregierung für Kultur und Medien with funds from NEUSTART KULTUR
Ulm
23.7. ROXY                  6:30 + 8:00 p.m.
24.7. Kornhausplatz   6:30 + 8:00 p.m.
25.7. Weinhof              6:30 + 8:00 p.m.
more info: roxy.ulm.de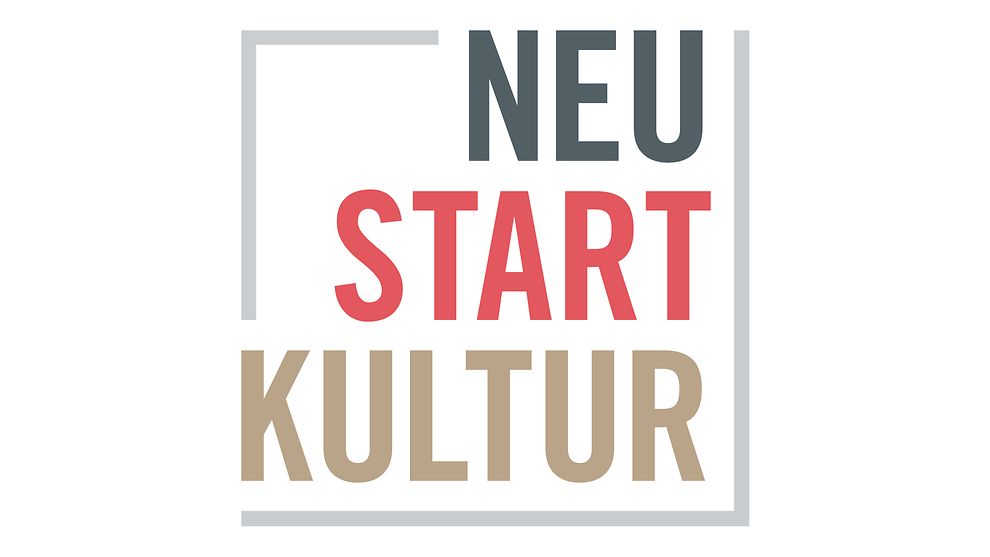 tanz.dance scrollytelling by Arnd Wesemann
All artists are "Made in Bangladesh"
Millions and millions of kilometers of yarn are unwound unremittingly from bobbins worldwide – in the myriad textile and sewing factories on this earth. Mechanically speaking, bobbins perform an almost endless pirouette. The human body follows exactly the same principle. Helena Waldmann's performance "Made in Bangladesh" has focussed especially on the resulting economical disaster.
2021 July BALAGAN! @ Aschaffenburg Helena Waldmann's pop-up feast for charioteers and all who are with them
Three-wheeled motorized cargo bikes that radiate a lot of sympathy, signal joie de vivre and that people look around for with a smile – Piaggio Ape brand – are vehicle, stage and throne at the same time for a pop-up feast with the participation of regional cultural actors and the population. This community, quasi ad hoc assembled, appears and acts united in public space and asks for participation in social life and a politics of appearance.
Their stage is the loading platforms of the Piaggios Ape, which 'dance' their rounds and formations in the market square. Ever new people on the loading platforms steer the Ape drivers as if with a rein and celebrate the dance of our attitude on their throne and in the middle of the community in a corona-like manner.
BALAGAN! is a production by Helena Waldmann and ecotopia dance productions
in co-production with Kulturamt Aschaffenburg
supported by the NATIONAL PERFORMANCE NETWORK – STEPPING OUT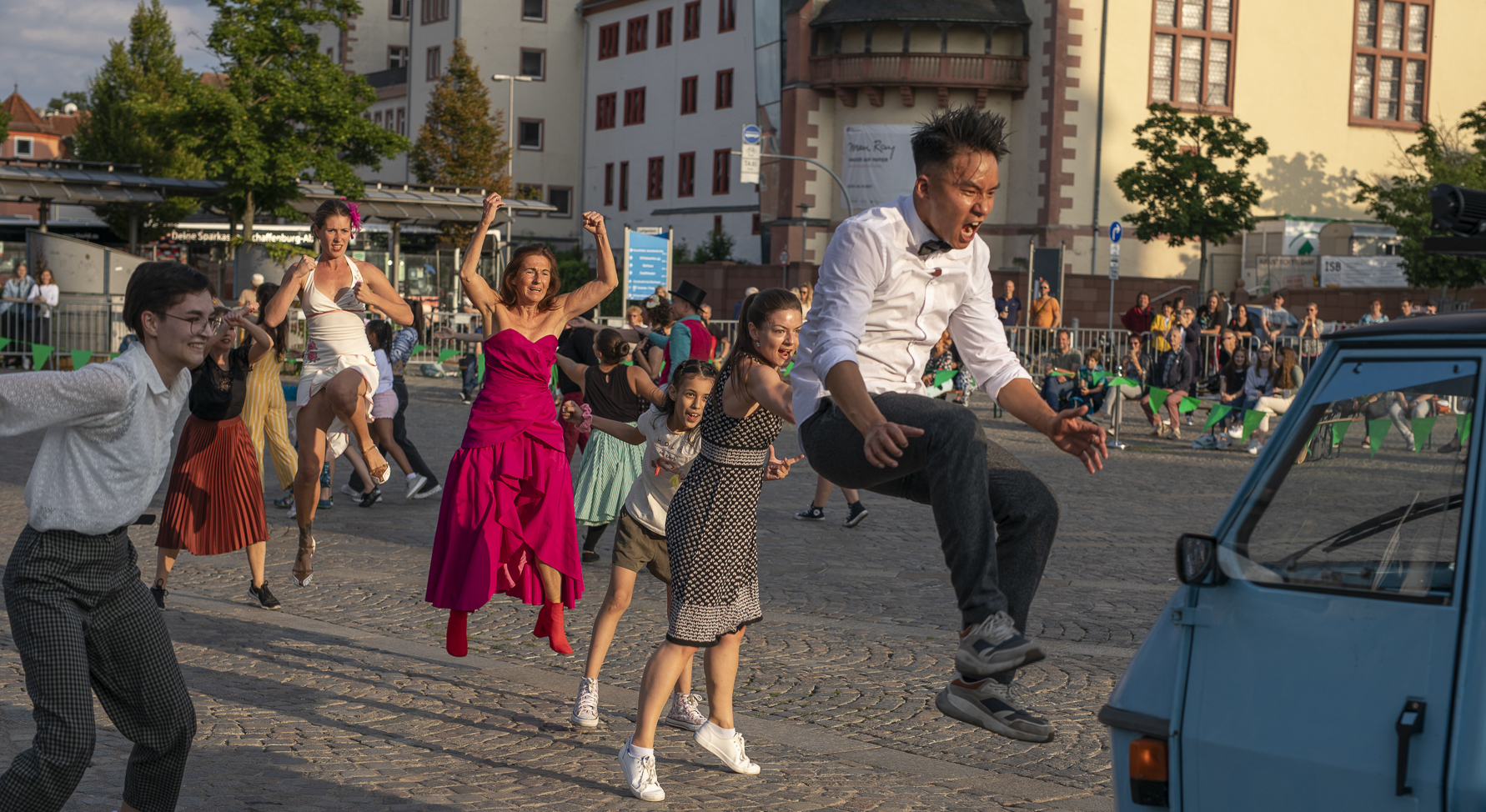 Aschaffenburg
July 1 – 3  Marktplatz   7:30 p.m.
SWR 2 Kulturbeitrag (German) | 30.6.2021 Radio Interview
online symposium 2021 February, 25 WAS BEAUTIFUL. CAN GO NOW... Age(ing) in the Performing Arts
Excerpts from interviews on 'Art and Age(ing)', conducted by Angie Hiesel + Roland Kaiser 2020/21.

theme table:
Helena Waldmann
FROM OLD TO NEW
How to become unfaithful to oneself?
Art is repeated until it is yesterday's news. And then? It has to reinvent itself, upcycle itself. A tightrope walk: How can I remain innovative? And how far can I move away from my old image?
under construction festival Tanztheater Wuppertal|Pina Bausch "Cloakroom Encounters. Garderobenbegegnungen"
online premiere 2020, November 24
a short dance film with Julie Shanahan, Nazareth Panadero, Eddie Martinez, Andrey Berezin, Azusa Seyama and the singers of WoW- Women of Wuppertal
2020/2021 #takeheart Residency @ FFT Düsseldorf die|the|a QUADRIGA (クアドリガ座)
My approach is that the arts have the same globalized tools as other industries. In the arts, the "white cube" is an internationally well established format that can be found or set up anywhere in the world. On each of the four white walls, the work of an artist is shown and brought into connection with each other on a shared display to the audience. Four performances that take place simultaneously all over the world. Four positions, the result of rehearsal and political processes, to be experienced simultaneously in four countries and hybrid on the net. To make this possible, research, conversations, common ideas and exchange are the means of art to stop looking at the world as one closed border.
The research is supported by
FONDS DARSTELLENDE KÜNSTE_NEUSTART KULTUR_#TakeHeartResidenzen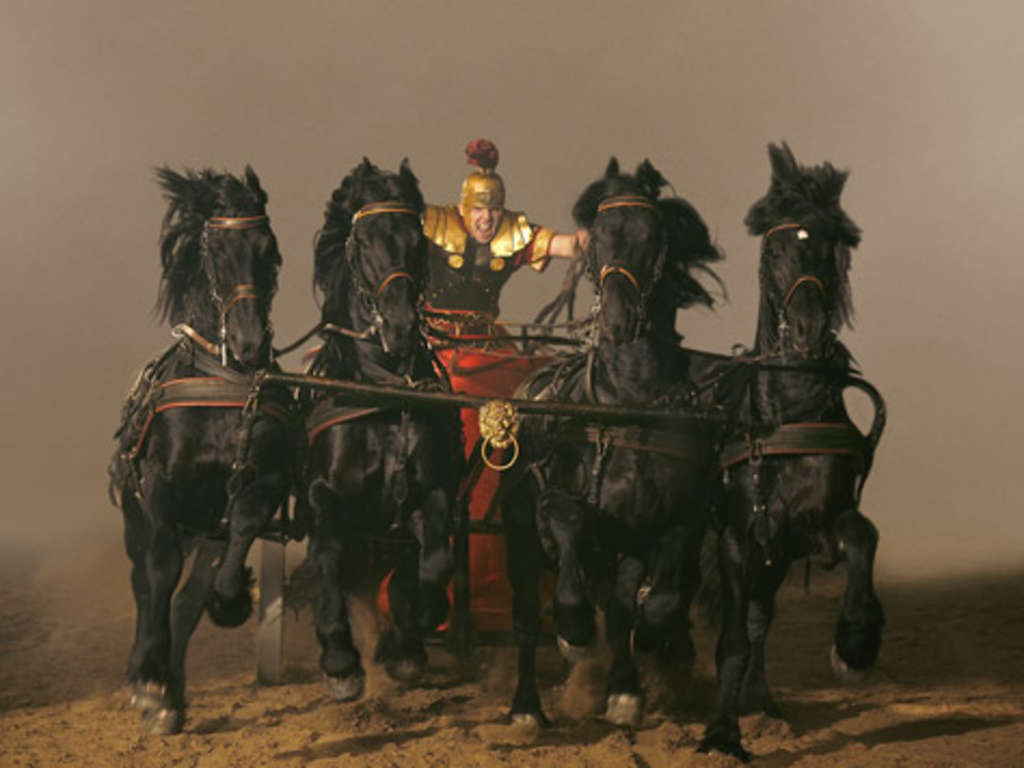 2020/2021 DIS-TANZ SOLO Reaching for the stars
Starting from the physical descriptions of mechanics in Isaac Newton's "Principia" to the observations of Paul Virilo for a "dromology" of our locomotion, I was able to complete nine months of intensive research on current concepts of mobility and their relationship to choreography. The study of acceleration as "progress" and the "heightened locomotion" necessary for it – the vehicle has always been a stage as well since its construction as a carriage – gave me courage to investigate the choreographic quality of vehicles as possible dancers.
Funded by the Federal Government Commissioner for Culture and the Media in the programme
NEUSTART KULTUR, [aid programme DIS-TANZEN] of the Dachverband Dance Germany.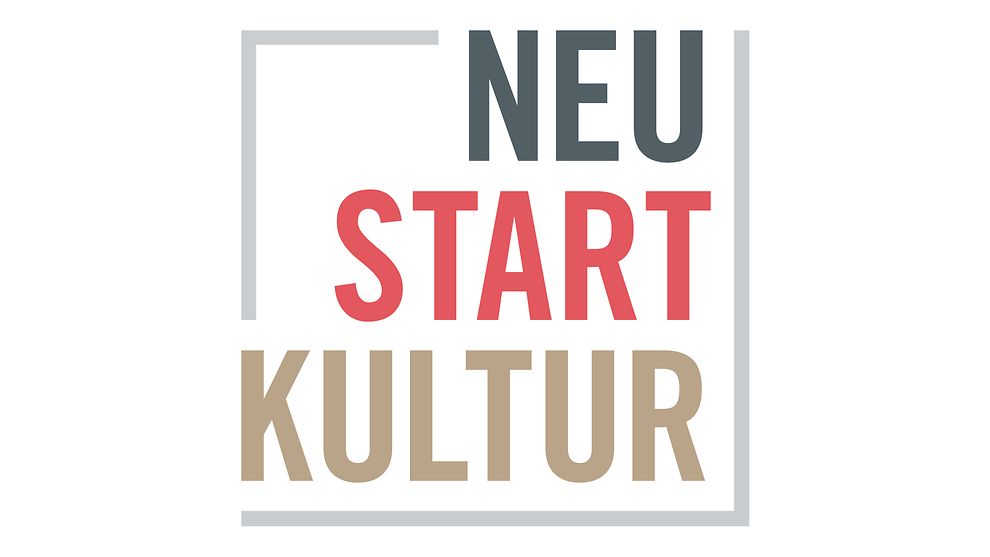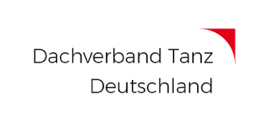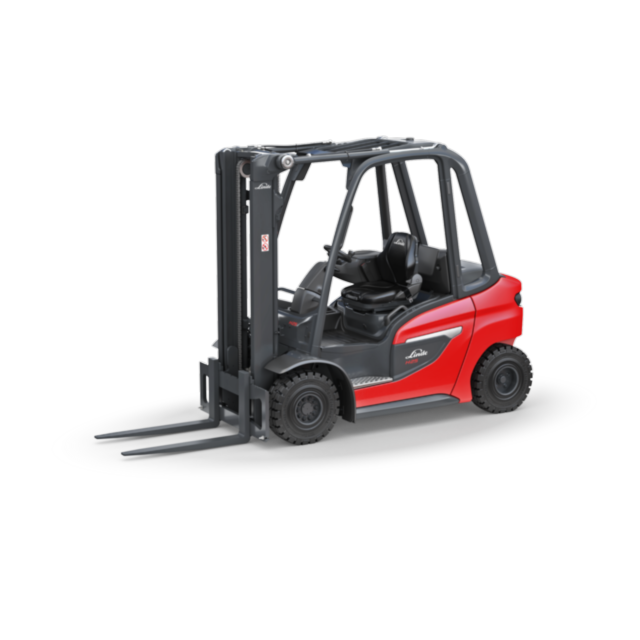 Tanztheater Wuppertal|Pina Bausch "Encounters" had to be CANCELLED due to Corona The premiere was scheduled for 18 June 2020 at Opera House Wuppertal
These were our plans when we started working on "Encounters" in autumn 2019:
My dear colleagues Sidi Larbi Cherkaoui, Richard Siegal, Gintersdorfer/Klaßen, Rainer Behr and myself are starting a new choreographic adventure in collaboration with Tanztheater Wuppertal. We all are ready now to create a great blend of everything, our styles from different traditions together with dancers both from Tanztheater Wuppertal and abroad, to celebrate our inquisitive and critical view to the world, mixing perspectives and creating a wild evening.
Tanztheater Wuppertal will release a new production. Find the German text here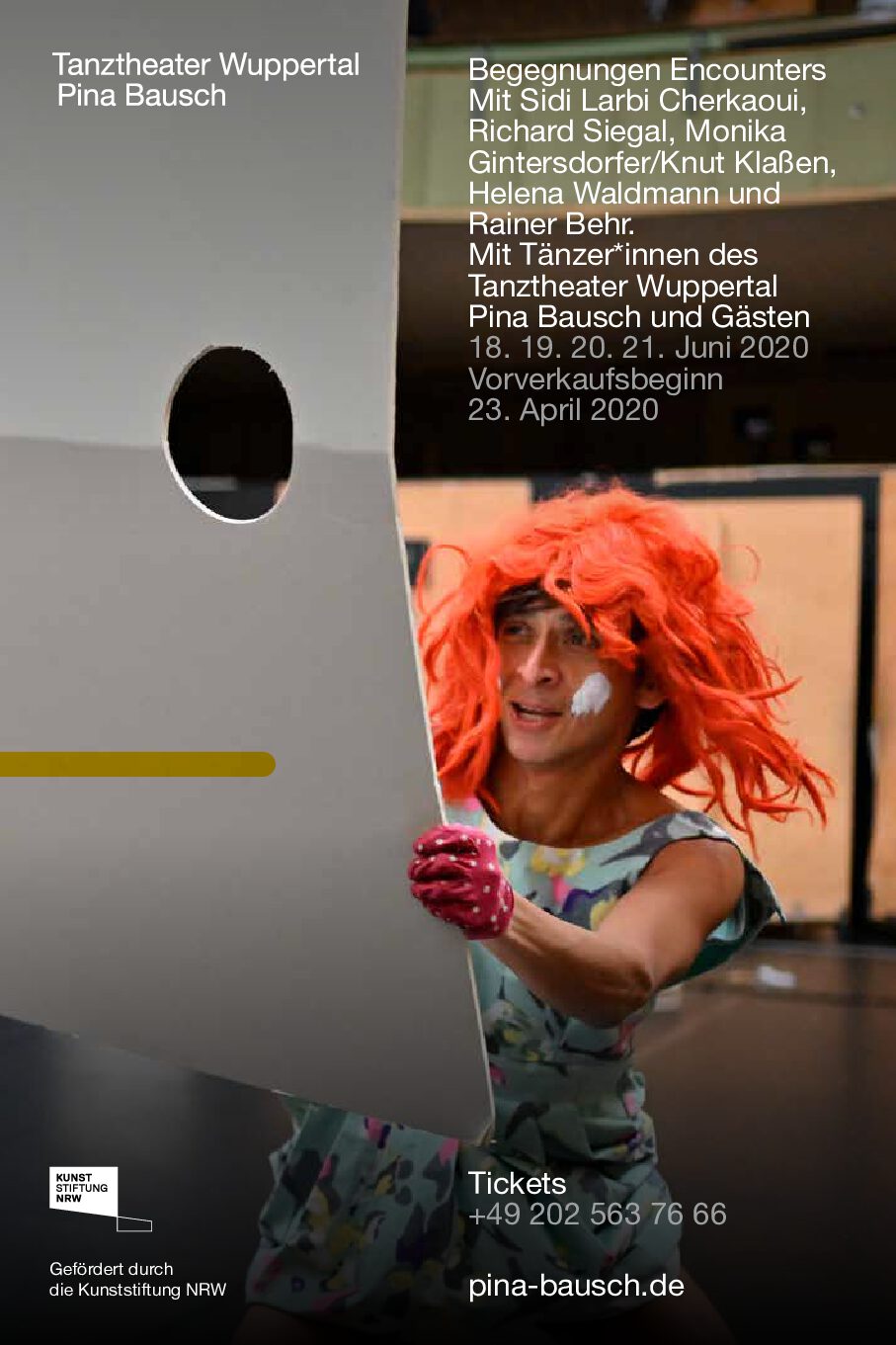 A cultural-virological conversation on the occasion of the Corona crisis The Intruder & AMBULANZ ////// DOC SU & TRICKSTER
Cultural virologist Susanne Ristow in conversation with Helena Waldmann
2020, March 24
Dialog in German: Zuviel Schutz ist kein Schutz
Dialogue in Englisch: Overprotection is no protection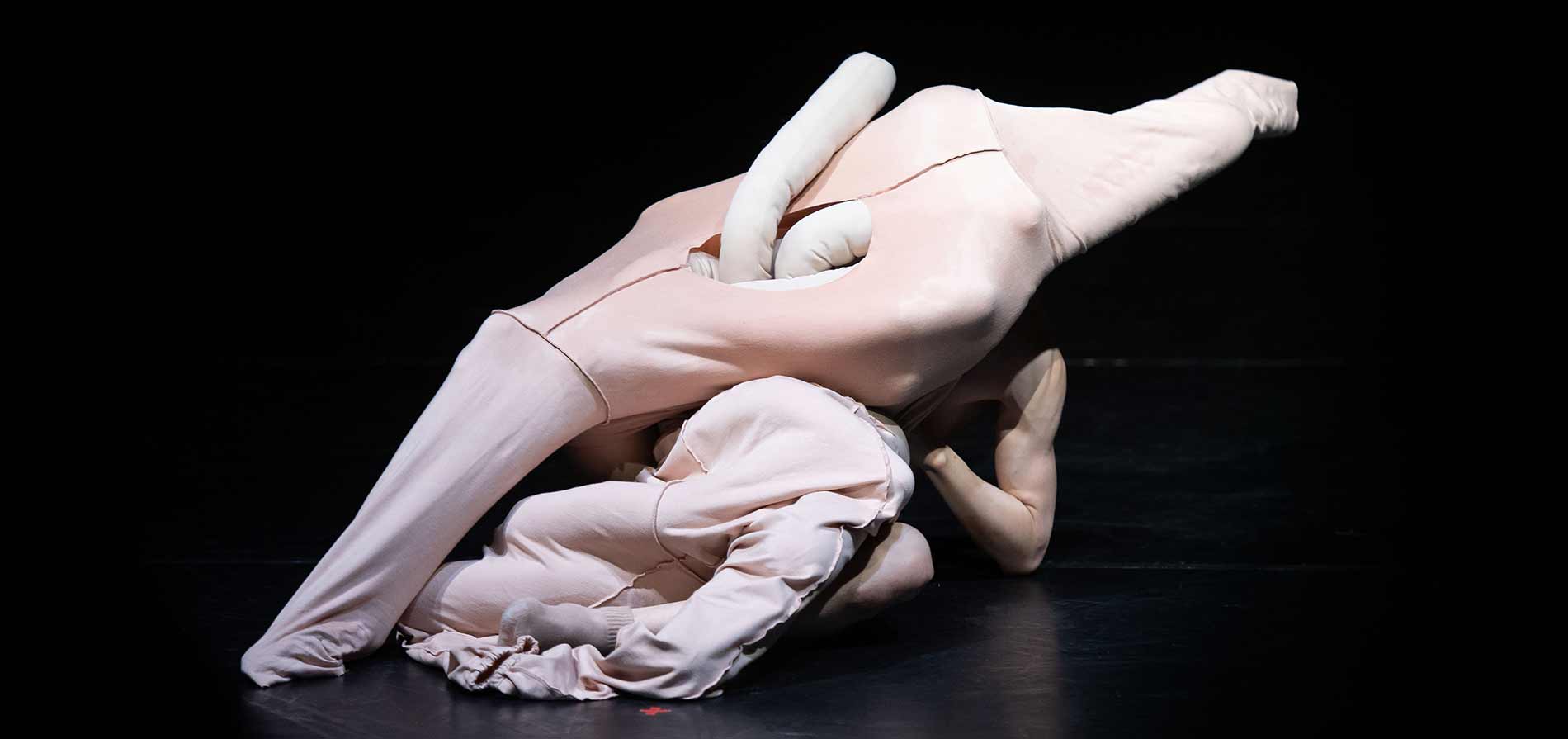 Further 2019 Touring The Intruder - an autopsy -
It is a strong, magnificent piece about the fear of the other and a plea to deal more serenely with alleged danger. Helena Waldmann's most recent work, "The Intruder", features a rapid succession of erotic, comical and combative "meetings". Three dancers skillfully attack each other, defend and protect themselves with evermore focus mitts and kick pads until they finally become almost unable to move and hence vulnerable. They are clowns with poetic depth, whose slapstick leads to subtle closeness to the foreign in a fantastically-comical tango scene. The piece impresses through the dancers' willingness to take risks, who do not just perform the sudden outbreaks of violence. All the more light-footed, dance director Helena Waldmann forges the bridge from political to medicine, from nation to body, and from martial arts to ballet and live singing.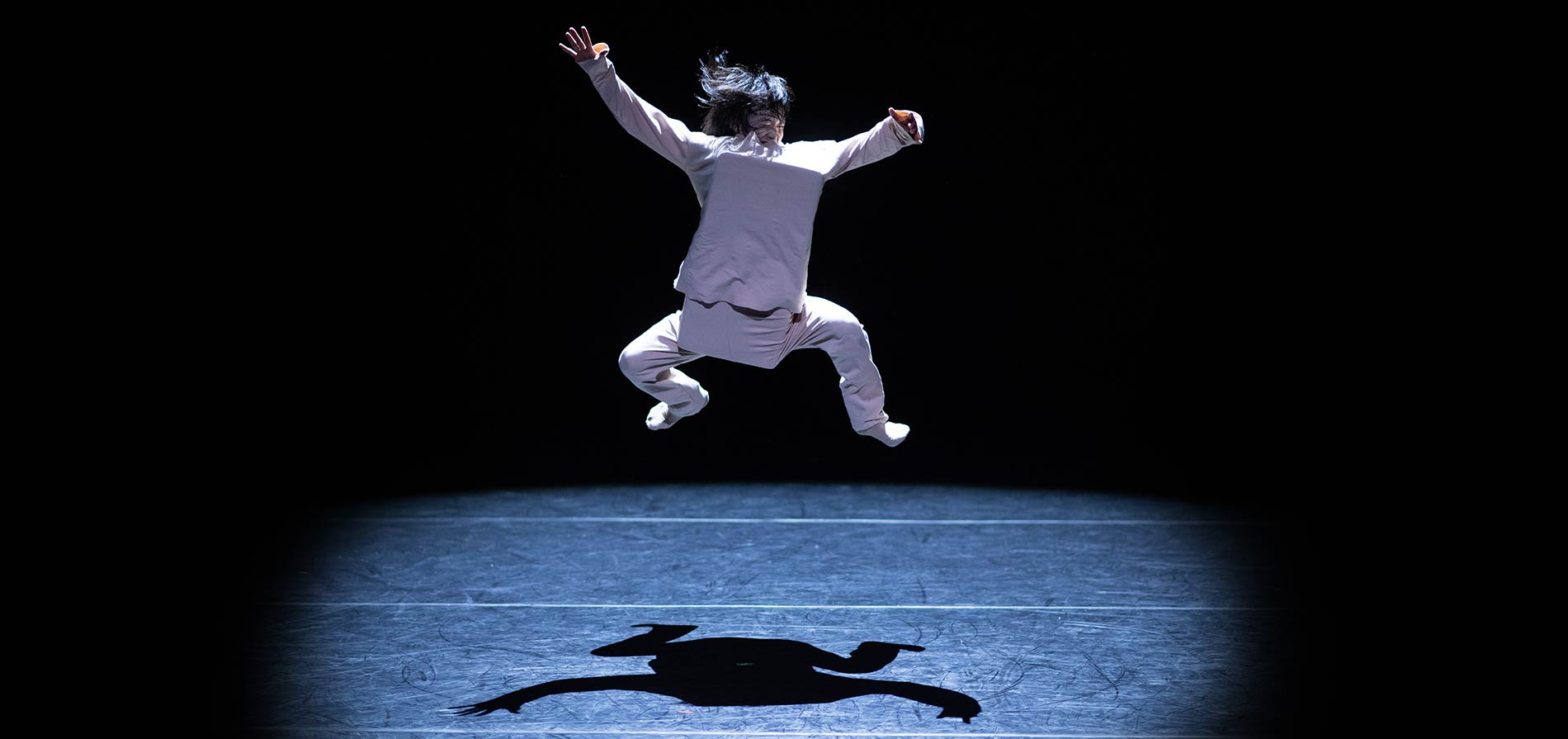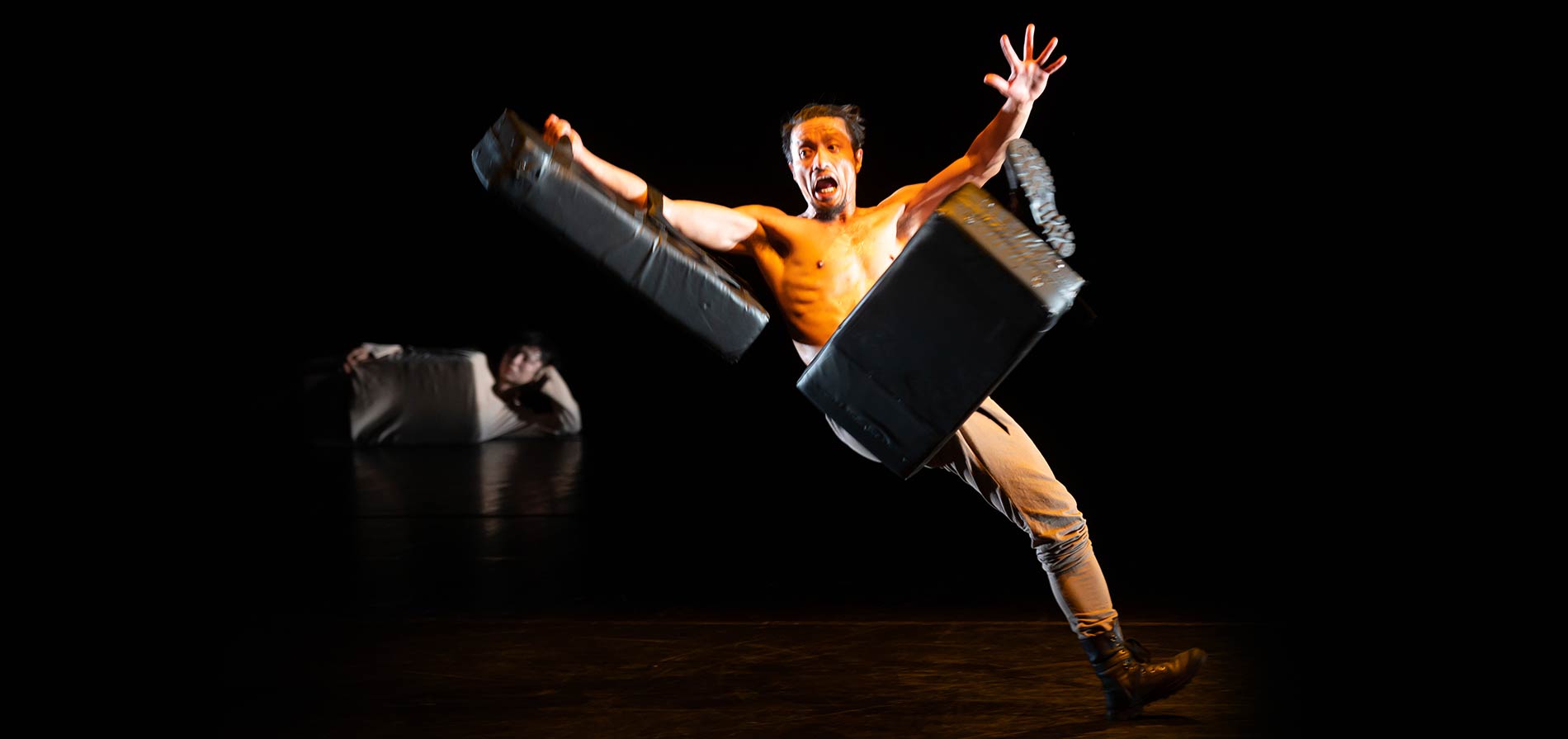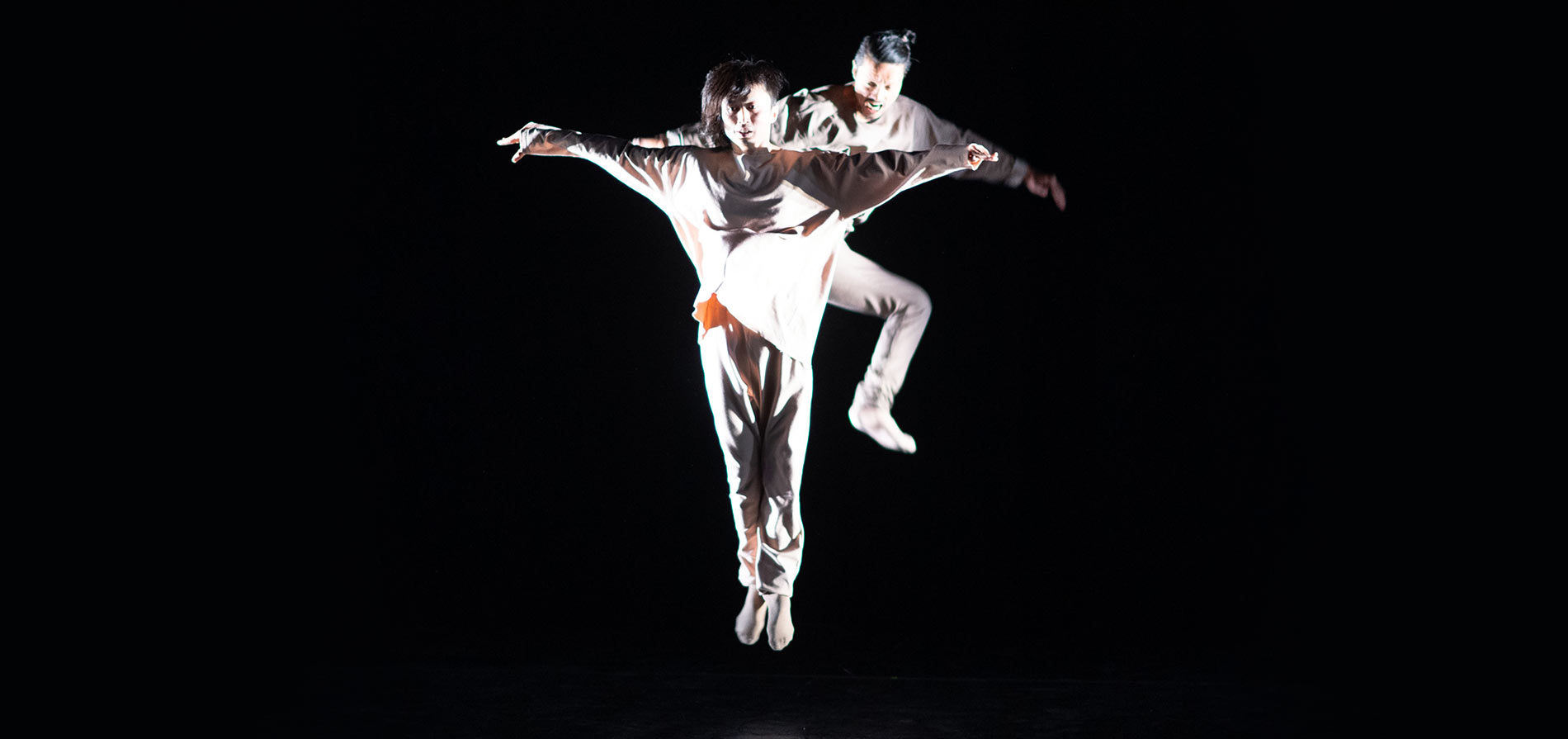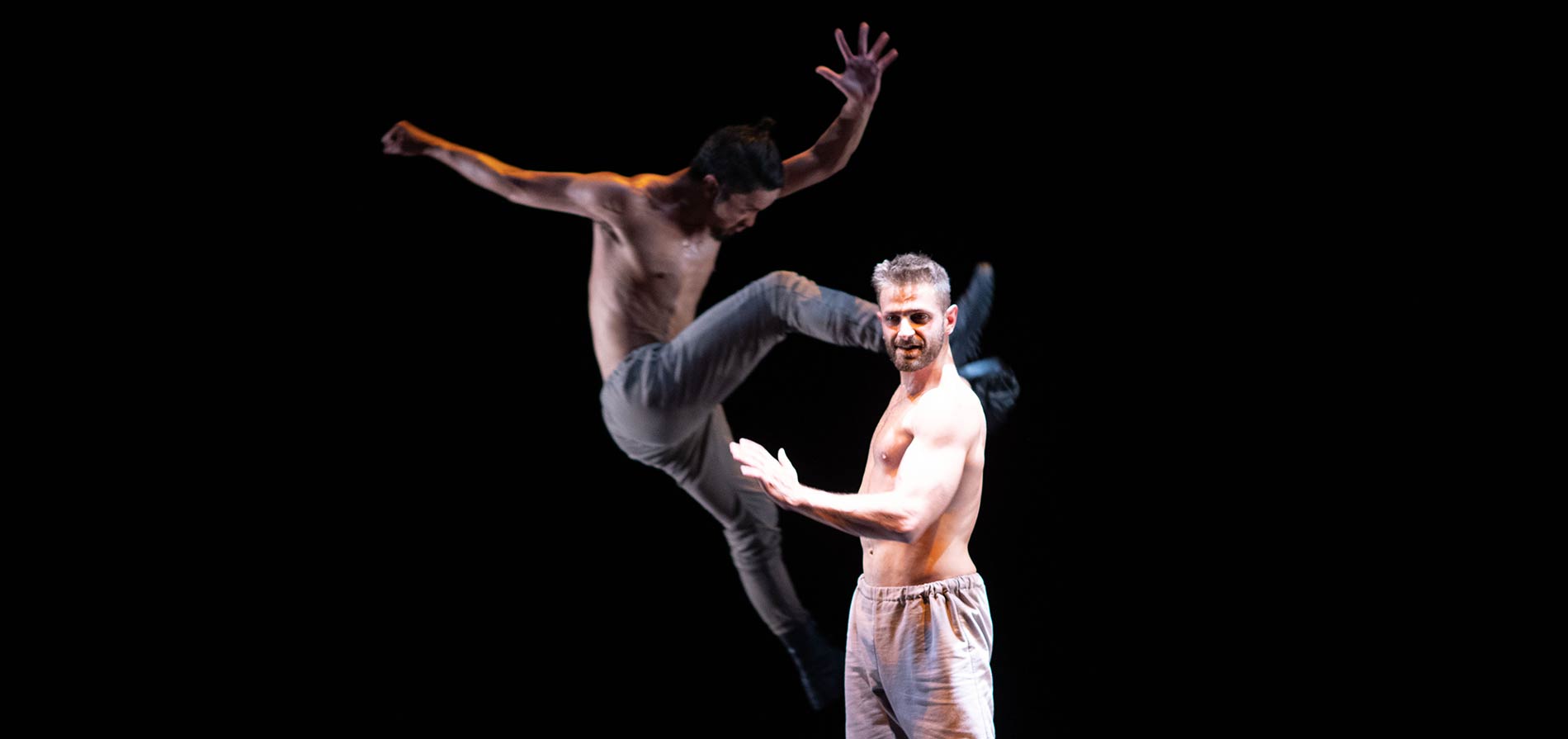 Further 2019 Touring
Nov 27 Münster
Nov 29 + 30 Düsseldorf
Dec 3 Karlsruhe
Dec 5 Aschaffenburg
Dec 7 Nürnberg
on autumn tour The Intruder - an autopsy -
This new production takes a look under the skin, inside the body, and at the same time inside the system of the "state". What penetrates from the outside is considered a "foreign body". Isolating, even outright combatting it seems to be the obvious solution. But in reality neither a body nor a territory can completely isolate itself from the outside world. What's more, medicine knows that only an organism that is prepared to change can survive … Waldmann translates this insight into images that are as haunting as they are surprising. For example, her actors pad themselves with focus mitts to visualize protection driven to extremes – with a literally "staggering" and also very comical effect.
Touring 2019
Nov 9 Theaterhaus Stuttgart
Nov 12 + 13 Tanzfestival Theater in Bewegung im Theaterhaus Jena
Nov 27 Theater im Pumpenhaus Münster
Nov 29 + 30 Forum Freies Theater Düsseldorf
Dec 3 Tollhaus Karlsruhe
Dec 5 Stadttheater Aschaffenburg
Dec 7 Tafelhalle Nürnberg
Performer
Tillmann Becker, Telmo Branco, Mattia Saracino, Ichiro Sugae
At POWERHOUSE at Festival Bolzano Danca We Love Horses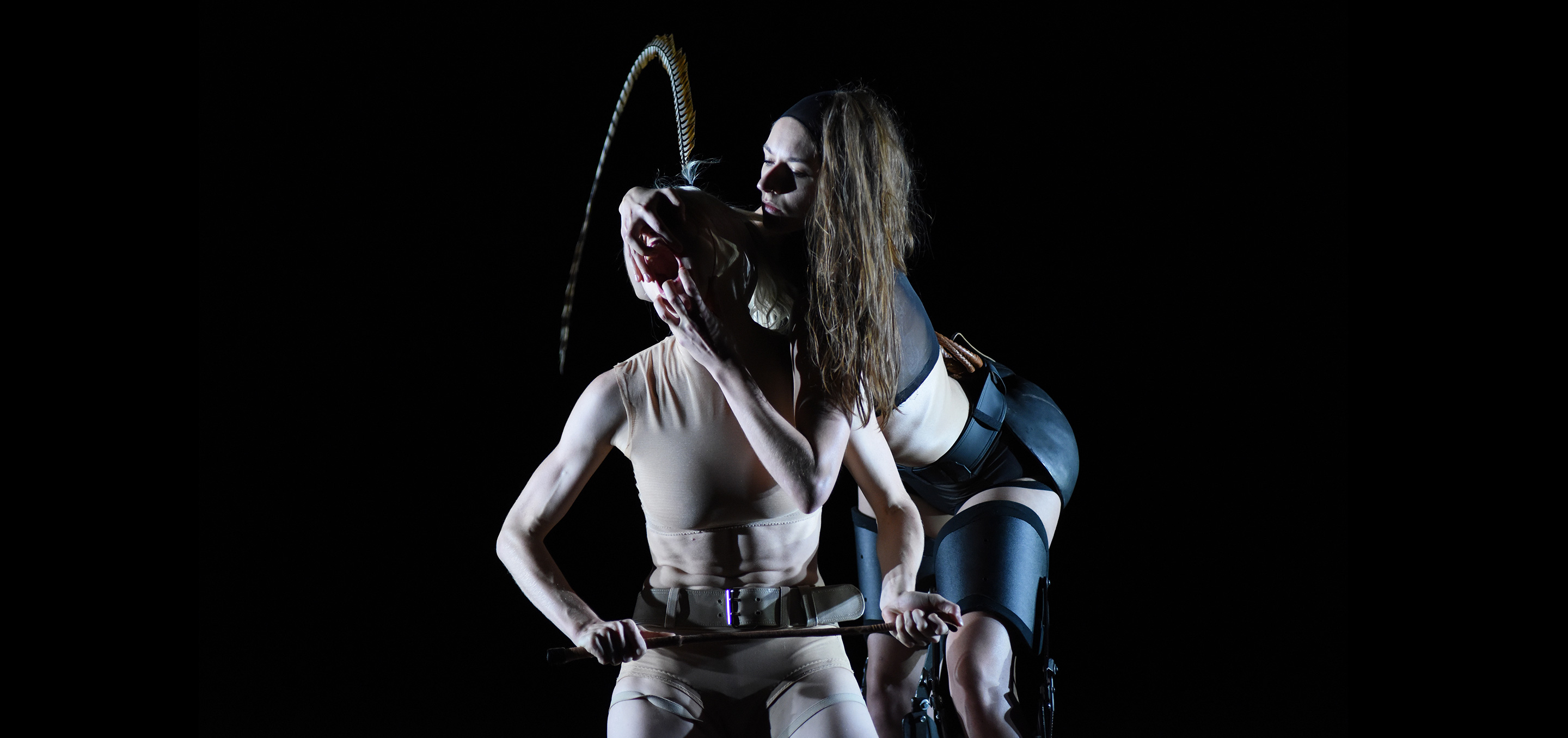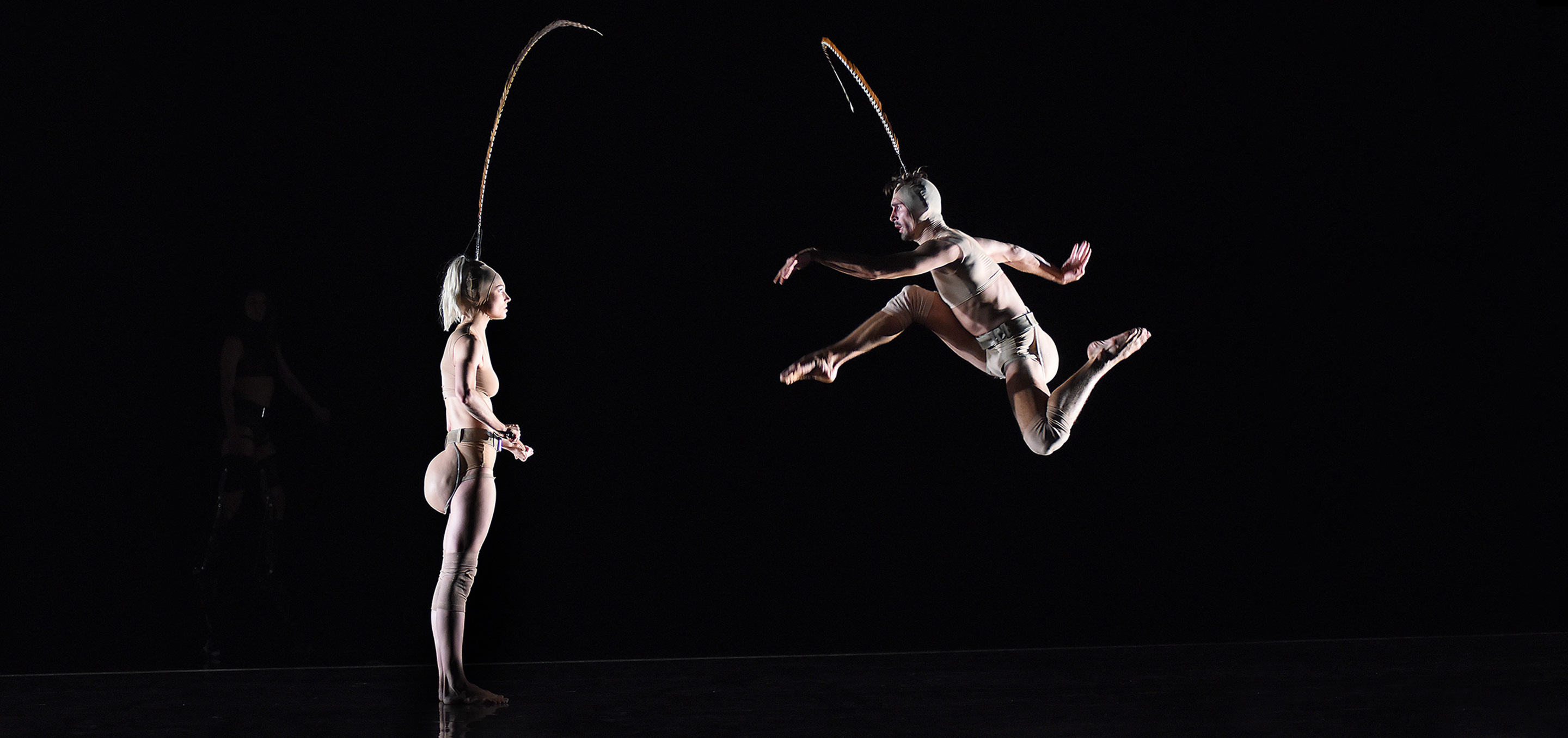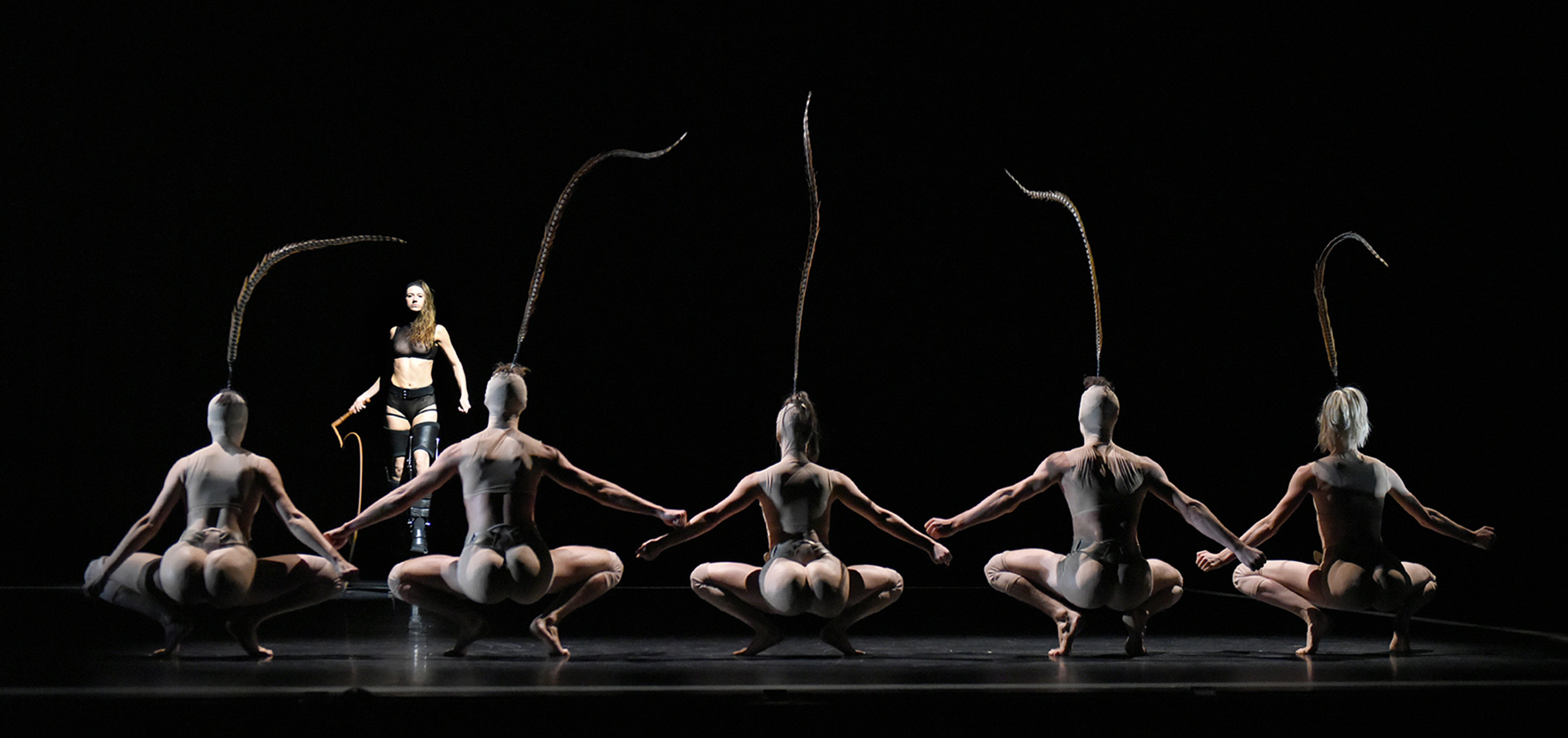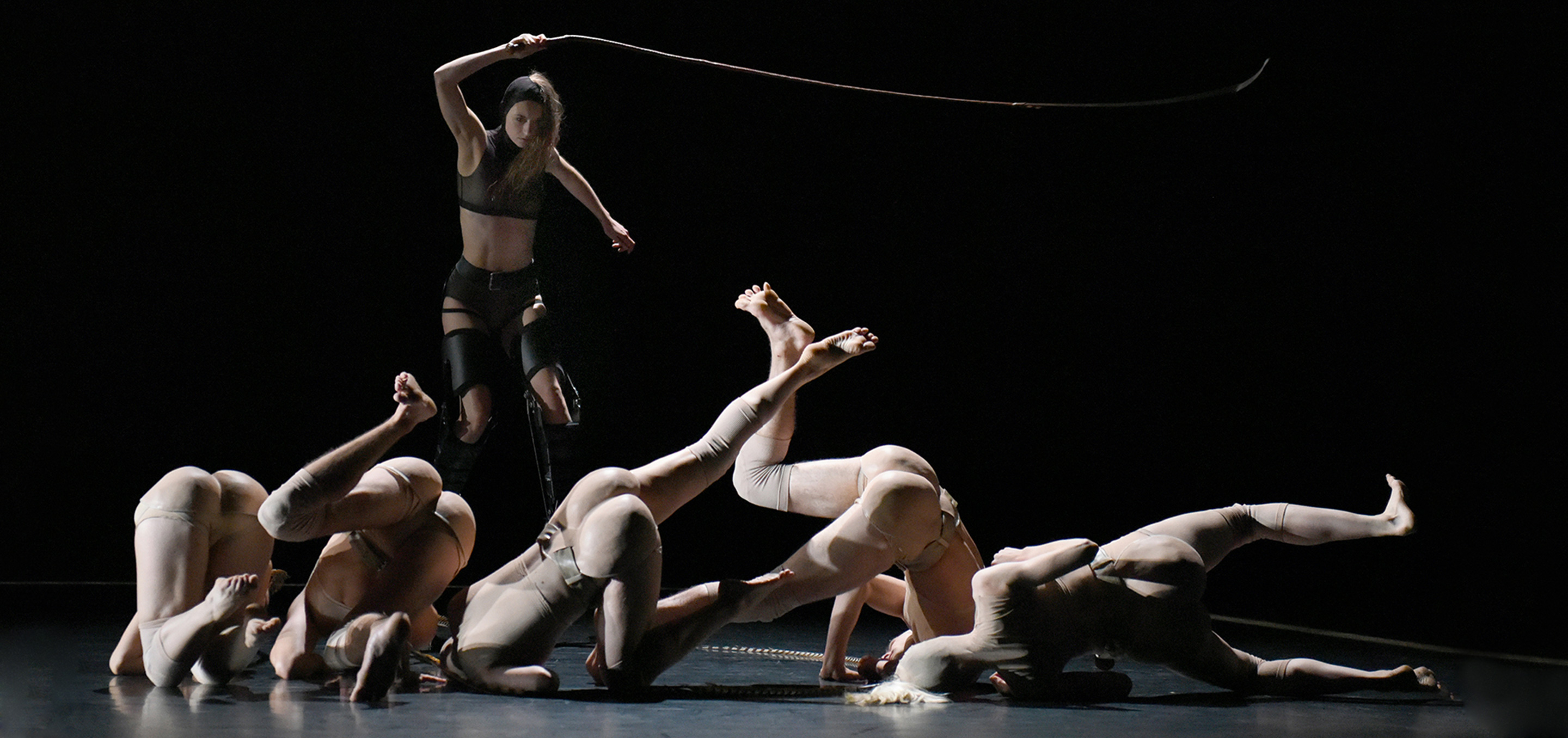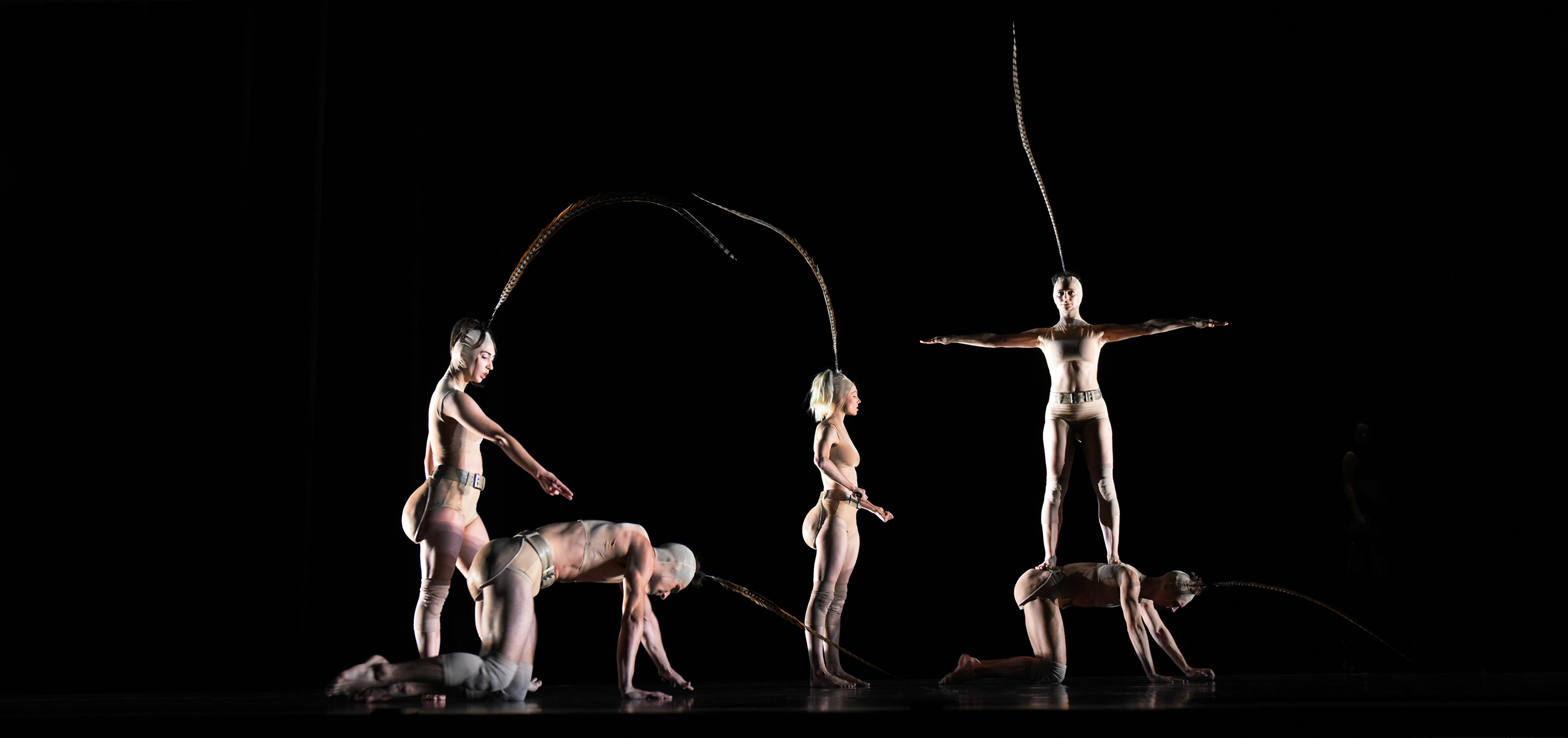 2019 JULY 24 | 9 p.m. | Municipal Theatre Bolzano (I)
Choreographies by
Cayetano Soto, Marco Goecke, Helena Waldmann, Eric Gauthier, Ohad Naharin
Gauthier Dance // Theaterhaus Stuttgart
!! TA DA !!
The Trailer of The Intruder – an Autopsy – is out now!
German Daily News | Wuppertal 29.05.2019 Encounters @
Tanztheater Wuppertal Pina Bausch
Five choreographers from different artistic backgrounds are invited to work with the Tanztheater Wuppertal Pina Bausch ensemble in the coming season: Sidi Larbi Cherkaoui, Richard Siegal, Monika Gintersdorfer/Knut Klaßen, Helena Waldmann and Rainer Behr will present new works under the title Encounters as part of a full-length evening.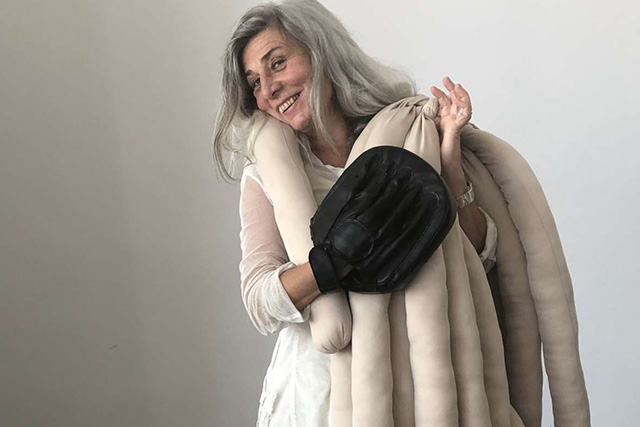 SWR 2 Kulturbeitrag (German) | 5.6.2019 Radio Interview with
Helena Waldmann
TV Interview with Helena Waldmann
Helena Waldmann as guest in german TV show DER TAG.
She talks about the upcoming piece The Intruder and challenges and inspiration in her (work)life.
Deutsche Welle – DER TAG | 29.5.2019
The Intruder – an autopsy –
Premiere: 2019, June 8
Pfalzbau Bühnen Ludwigshafen
Helena Waldmann invites you to an autopsy. The view goes under the skin, into the interior of the human body and at the same time into the interior of the system "state". No body, be it that of a living being or human society itself, functions as a closed system. Openings are essential for life, but they also make us vulnerable. The first impulse is to protect oneself: Barriers are erected, potential attackers are to be kept away. But the fact that the intruder can also bring benefits is an old insight in immunology that is gaining new significance in current research. The "biological self", the self-sufficient body that functions only by itself, is now regarded as an illusion. Humans live with and through a multitude of independent microbes and bacteria. Attackers challenge the immune system and cause it to learn and develop. Medicine knows that only the organism that is prepared to confront the foreign will survive.
On the microscopic level of the body, Helena Waldmann stages the macroscopy of a politics. Using the means of dance, she shows strategies of defense and adaptation using the very special abilities of her performers. After using ballet in "get a reovlver" , Kathak dance in "Made in Bangladesh" and acrobatics in "Good Passports Bad Passports" she is inspired this time by the Chinese martial art Kung Fu. Here attack and defense are one. The strength of the respective opponent is neutralized by agile step and stroke techniques and turned against the attacker. The goal is to grow on the opponent without destroying him. Helena Waldmann thus proves that openness, freedom and freedom of movement are vital in order to pre-empt the perfidious construction of security which, in its logic of unity, can only produce the dead alive.
The internationally renowned dance director was honoured for her political theatre work with the Bertolt Brecht Guest Professorship, which she holds in the winter semester 2018/19 in Leipzig. In Ludwigshafen she has already performed "Letters from Tentland", "get a revolver", "Made in Bangladesh" and "Good Passports Bad Passports".
"The Intruder – an autopsy -" touches a discourse that BASF has stimulated through its Tor 4 support program in the Rhine-Neckar metropolitan region. 16 projects from the fields of music, dance, literature and the visual arts will deal with the same topic. Why is everything getting better? This question can also be posed in view of the constant perfection of security systems, which lead to isolation and rigidity on both a medical and social level. BASF particularly promotes our dialogue with the public. In a matinée one week before the premiere, besides the choreographer herself, people from various fields will be guests and after the premiere on June 8 we invite you to a follow-up discussion.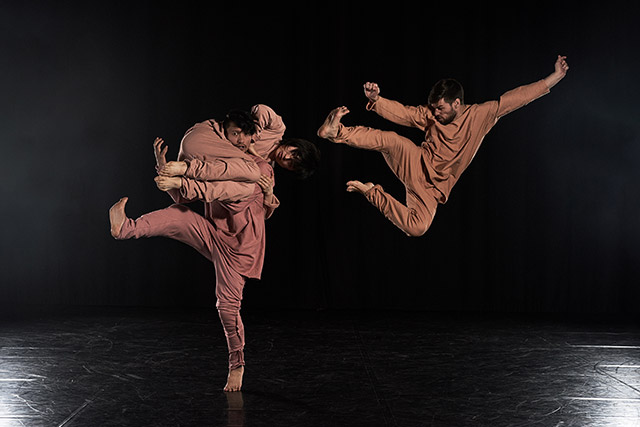 eine Produktion von Helena Waldmann und ecotopia dance productions
in Koproduktion mit Pfalzbau Theater Ludwigshafen, Forum Freies Theater Düsseldorf Tafelhalle Nürnberg, Tollhaus Karlsruhe;
Hauptsponsor BASF/Kulturförderprogramm Tor 4 mit freundlicher Unterstützung des Pumpenhaus Münster
"Unterstützt durch das NATIONALE PERFORMANCE NETZ Koproduktionsförderung Tanz, gefördert von der Beauftragten der Bundesregierung für Kultur und Medien."
Touring 2019
June 8 Premiere Pfalzbau Theater, Ludwigshafen (D)
Nov 9 Theaterhaus Stuttgart (D)
Nov 12 + 13 Festival Theater in Bewegung, Theaterhaus Jena (D)
Nov 27 Pumpenhaus Münster (D)
Nov 29 Forum Freies Theater, Düsseldorf (D)
Nov 30 Forum Freies Theater, Düsseldorf (D)
Dec 3 Tollhaus, Karlsruhe (D)
Dec 5 Theater Aschaffenburg (D)
Dec 7 Tafelhalle Nürnberg (D)
concept, direction, choreography
Helena Waldmann
with
Tillmann Becker, Telmo Branco, Mattia Saracino, Ichiro Sugae
light design
Herbert Cybulska
musical direction
jayrope
music
Jerry Goldsmith, Jean-Philippe Rameau, Astor Piazzolla, Rashad Becker, jayrope & Niklas Kraft, jayrope & Lippstueck
Arne Deforce/Mika Vainio
video
Anna Saup
holographic consultant
Michael Saup
costume
Judith Adam
costume collaboration
Nora Scheve
technical stuff
Carsten Wank, Stephan Wöhrmann
production management
Claudia Bauer
press relations
Nicola Steller
photography
Christopher Schmidt
Leipzig, Germany Guest Professorship
Helena Waldmann ist Bertholt-Brecht-Gastprofessorin der Stadt Leipzig im WS 2018/2019.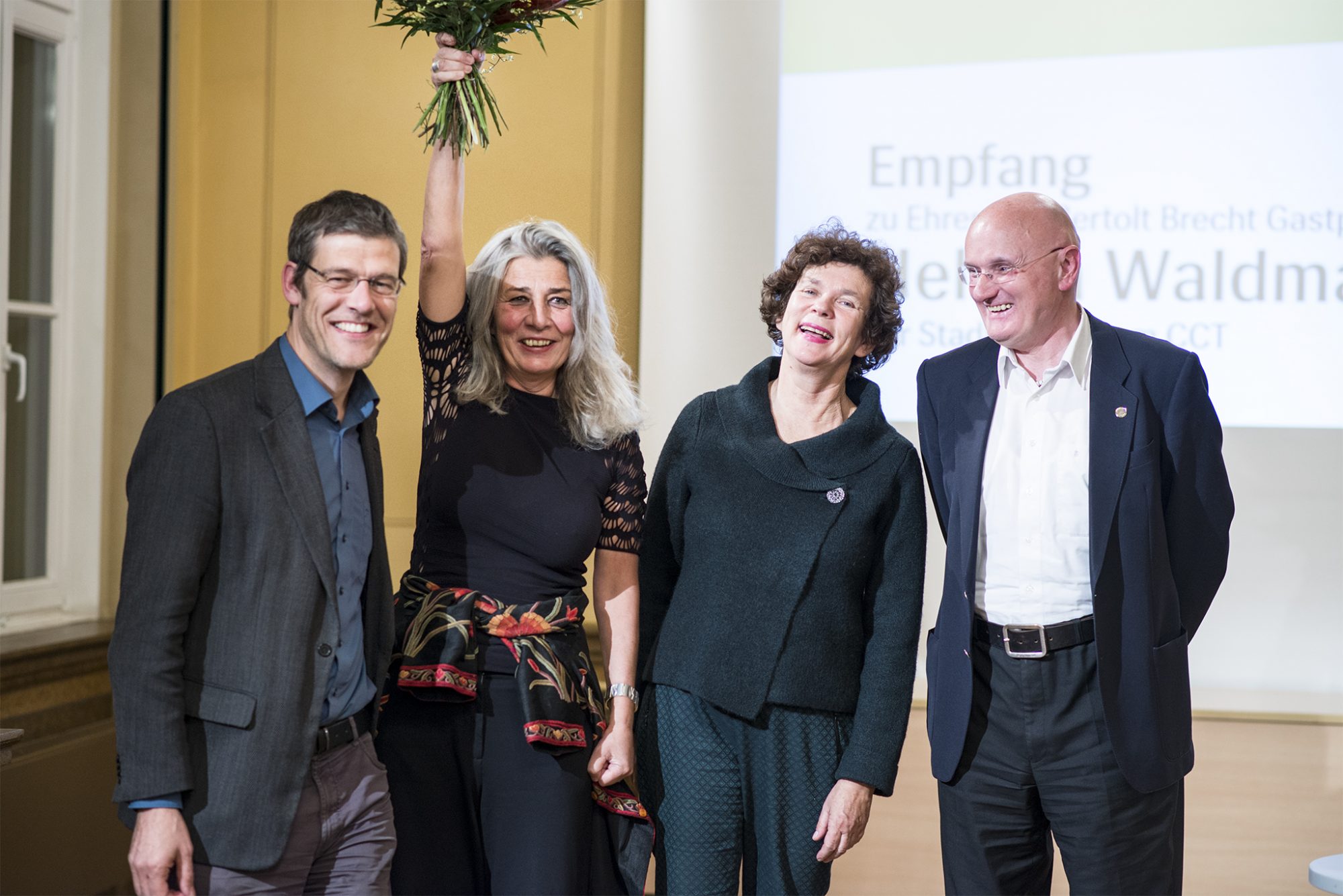 Workshop in Hong Kong & public seminar | Jan 2019 Creation for Freespace: Dramaturgy and Beyond